When University of Missouri system president Tim Wolfe, along with another high-ranking administrator, resigned after students protested what they called the administration's lackluster response to several high-profile racially charged incidents on campus, the reverberations were felt all the way to Wellesley.
The series of unsettling events that made Mizzou students willing to go public and get organized enough to eventually unseat a university president are as base as you might expect, and had been brewing for about six months:
Last April, the wall of a dormitory stairwell was defaced with a swasktika and the word "heil". A freshman resident was arrested and will serve two years probation for second-degree property damage motivated by discrimination.
In September, as the student body president was walking with a friend, a group of young people driving by him in a pickup truck shouted out the n-word, directed at him. Sadly, this wasn't the first time it happened to him on campus. This time, though, he took his story public via social media.
In October, members of the Legion of Black Collegians were rehearsing for a performance when a white man walked by, reportedly impaired by drugs or alcohol, and pulled out the n-word. You can read the group's full account here.
It is important to note that these are just the incidents that have received national attention. I'm thinking there may have been a few additional micro-aggressions here and there.
From there, Mizzou students of color started fighting ugly with action, and returned the call of n-word with the response of demands. They wanted Wolfe removed, stat, as well as an increase of black faculty and staff, and more racial awareness training for faculty, staff, and students. The activists got the first part. Wolfe stepped down three days ago. Now the campus has to do the hard work-in-progress part.
Meanwhile, at Wellesley College, the campus group Ethos Political Action Committee has gotten specific with its own expectations of that school.  Real specific. In reference to the events at Mizzou, the organization says that its black students have also been faced with administrative inaction to its concerns regarding racism.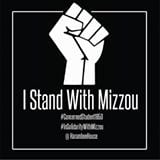 In a call of action to Wellesley College published in The Wellesley News, the group says: "Wellesley College…It is time that we reflect on how we are complicit in an institution that excludes and ignores its students of color, particularly its Black students…Are you actively reaching out to and recruiting students of color, or are you okay with having a population comprised of a measly 6% of Black students? What are your plans for making Wellesley more affordable? Providing students with a greater loan package? When will you create a "Sense of Place"? How will you create this without sufficient spaces of gathering for students of color? We ask Wellesley to do better to actively include and protect us, the Black students of Wellesley College, as integral parts of this institution. We will not be diminished to statistics to fulfill quotas. If you want diversity, Wellesley, you must create it by working harder to admit students of color and creating an environment that affords us the resources necessary to thrive."
The group then asked the Wellesley College community to wear black on November 12 as a show of solidarity with the students of Mizzou and with "Black students everywhere who are fighting against administrative neglect, abuse of power, and a lack of adequate resources."
They certainly have president Kim Bottomly's attention. She responded on her blog, the HK Blog, Thoughts and Perspectives from President H. Kim Bottomly, with a post titled "We Support You." In it, Bottomly acknowledges that Wellesley College is not immune to issues of racism and equality, and notes that "…people of color and others from non-dominant groups who live, study, and work here have suffered from racial injustice." She then reaffirms her commitment to addressing and resolving inequities while building community (see more here).
The events at Mizzou have shown themselves to be nothing less than a tempest that has refused to be confined to its teapot. Or, if you prefer an analogy a bit less Anglo-Saxon, what was it that Langston Hughes said happens to a raisin in the sun? Something about exploding, I believe.
Also of interest…
Conversation about race draws diverse crowd at Wellesley Community Center