The following from the Town of Wellesley Department of Public Works Engineering Division:
Construction is continuing along Fuller Brook and will continue as long as the weather allows. Because of the time of year, some elements are on hold until spring including planting, seeding, and path construction. Work through the winter will concentrate on work in the brook and along the banks. Recent work has included regarding of the wet meadow area between Wellesley Ave. and Brook St. to reduce the amount of standing water. Final grading, seeding, and planting of this area will wait for spring/early summer.
 A signifiant amount of work continues to reduce invasive vegetation on the stream banks, install coir logs and coir fabric to stabilize the banks, and install rock and log structures to armor the banks in areas where higher stream forces tend to cause significant erosion: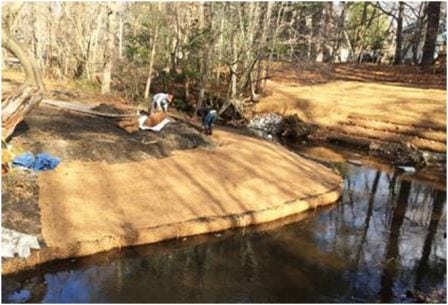 Where Cold Spring Brook enters Fuller Brook near the Hunnewell School, recent work has included removing an abandoned sewer pipe that had cut across the mouth of the brook and been exposed above the stream bed and then constructing a stream access point with large quarried granite blocks. In the spring we'll be back to install benches and do planting and seeding in this area.
The town welcomes comments and questions about the project. You can contact the Department of Public Works Engineering Division at 781-235-7600 x3315 or click here to visit the project's website for more information.