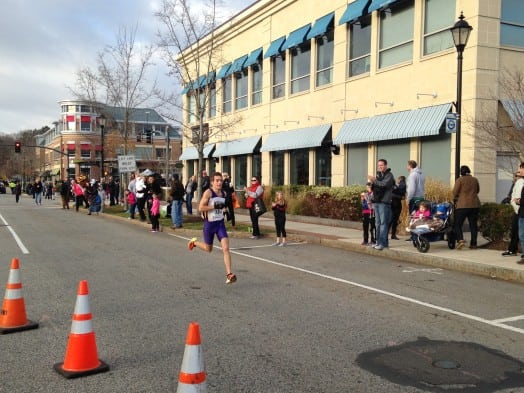 About 2,000 runners took to the streets for the annual Wellesley Turkey Trot on Thanksgiving morning, some blazingly fast, some just shuffling along with their families and friends. And I swear, little kids are getting a lot faster these days.
Quite reasonable November weather allowed runners to shed heavy layers and strut their stuff along 3.1 miles from Linden Square to Wellesley Square to Wellesley College and back to Linden Square. Younger runners skittered across a shorter course near Roche Bros.
Last-minute pleas by race organizers for volunteers to wear turkey costumes seem to have worked, as family members of race organizers no doubt narrowly avoided being strong-armed to don the suits. Speaking of strong-arming, I ran into one member of my running club who was strong-armed into running this race instead of the Framingham one he usually does, and he wasn't disappointed.
Former Wellesley High and current Williams College running star Bijan Mazaheri smoked the field by traversing the course in 15:32, more than 40 seconds ahead of the second place runner. Kimberly Webster came in first among women, breaking the 18-minute mark. (Full results here.) About a million members of the Davitt family showed up to win the prize for the biggest family team.
Those who stuck around after the race, and didn't run off to the Football at Fenway, gobbled up fabulous raffle prizes and took part in a trivia contest.
The Turkey Trot raised tens of thousands of dollars for Wellesley Cancer Prevention Project, Wellesley Education Foundation and the Wellesley Field Fund.
Congrats to race founder Carol Chaoui, organizer Kate Maul, Wellesley PD, national anthem singer Elise Miwa and a cast of thousands on another excellent event.
https://www.youtube.com/watch?v=LWh33bpRz-g