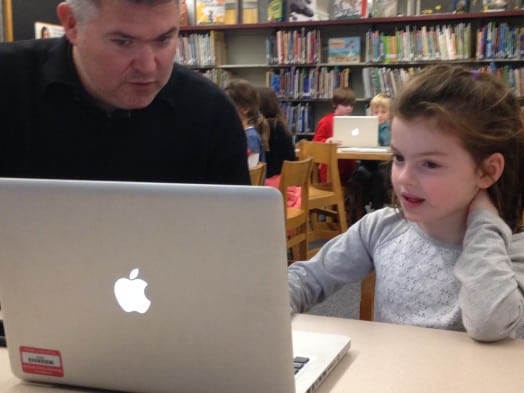 Schofield students this week participated in The Hour of Code, a one-hour introduction to computer science, designed to demystify code and show that anybody can learn the basics. Computers, and thus coding, are everywhere, but whether students have the opportunity to learn coding through computer science classes depends on their local school system. In Massachusetts, as with most states, computer science is not on the same plane as core curriculum courses such as biology, chemistry or algebra. The Hour of Code, a non-profit on a mission to expand access to computer science, and increase participation by women and underrepresented students of color, would like to see that change. They've had some pretty high-profile success: last year, every Apple Store in the world hosted an Hour of Code, and President Obama wrote his first line of code as part of the campaign.
This year, through the organization's one-hour tutorial, Schofield students joined in the fun. The kids, led by school librarian Elisabeth Zimmer and assisted by volunteers from Wellesley's jr. Code Academy, worked together at laptops playing games designed to bring home the lesson that coding is a set of instructions (or rules) that computers can understand, and that coding is everywhere. Hour of Code want students to realize that their everyday life pretty much runs on code — phone apps, Facebook, and The Swellesley Report, are all made with code — and that coding is interesting.
Mrs. Swellesley here is no computer whiz, but even she dives right in there to tweak this or that in the code that makes our WordPress system work. There are many times that I've cursed a post that wasn't formatting properly, only to go into the coding, spend a couple of minutes changing some obvious problems, and voila. It's ready for publishing. A little knowledge sure beats having to call in our technical support, says this child of the last century.
The Hour of Code aims to help the current generation of students learn the critical skills needed for 21st century success so that they can leap right into STEM college majors and careers, unafraid of things unknown, ready to conquer the world as it runs today, and run it themselves.
Click here for information about how to bring an Hour of Code to your school.