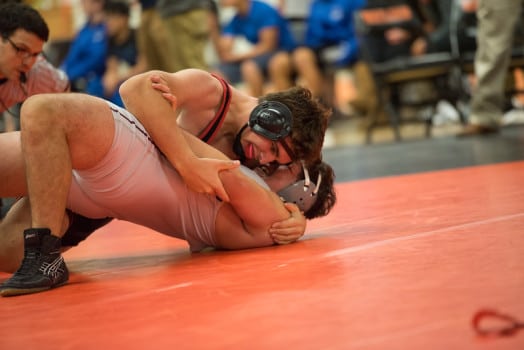 Nine members of the Wellesley High School wrestling team competed at the Wayland Invitational Holiday Wrestling Tournament this past weekend, with sophomores Josh Cohen and Michael Hershelman faring best for the Raiders (also curiously known as the Monks). Cohen (220-pound class) and Hershelman (138 pounds) each earned third-place finishes in a field of about 14 competitors per weight class from dozens of local programs. (Full results here.)
Other Wellesley wrestlers taking part: David Osborne (106), Evan Dew (132), Matthew Buonaiuto (145), Shamil Imakaev (152), Hudson Sewall (170), Niles Breuer (195) and John Lepard (285).
The team, which is off to a 1-3 start, is back in action this Wednesday vs. Milton at WHS at 7pm, then competes at the end of the month in the 49th annual George Bossi Lowell Holiday Wrestling Tourney at the Tsongas Arena in Lowell. This tournament draws more than 70 teams from the New England area and beyond and is considered to be one of the most prestigious tournaments on the East Coast.
RELATED: Wellesley High wrestlers take New Year's Day polar plunge into Morses Pond