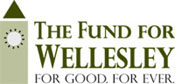 The Fund for Wellesley will accept grant proposals starting February 5  from Town departments and charitable organizations that serve the Wellesley community. There are two upcoming info sessions at the Wellesley Library — one on Feb. 10, 7:30 – 8:30pm and one on Feb. 11, 9 – 10am.
The Fund, which is supported through donations from Wellesley residents and businesses, seeks to find new ways to support the town's most vulnerable populations, and strengthen a sense of community and philanthropy.
To date, the Fund has made grants totaling almost $200,000 in support of a variety of programs, including English as a Second Language, suicide prevention, after school programs and Volunteer Drivers for the Council on Aging.
The Fund is particularly interested in programs that encourage all Wellesley residents to participate more in the community by seeking to alleviate factors that limit civic participation such as economic need, age, and physical or mental disability.
Some recent grants include funding for Project Moves Dance Company to bring their performance and message of empowerment to Wellesley High School; the Wellesley Day of Service, coordinated for the past two years by volunteers who cleared trails, cleaned up the beach at Morses Pond, made care packages for Massachusetts soldiers serving overseas, and more; and the expansion of the TOPSoccer program, a sports program for special needs children in grades K-6, who have physical and/or developmental delays.
Interested organizations should visit www.thefundforwellesley.org to review grant guidelines and apply online. Applications may be submitted at any point during the year, but submissions by April 15 will ensure consideration by the Community Board before funds allocated for grants in that year have been distributed.