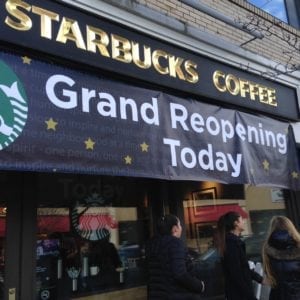 After being closed for renovations since last month, Starbucks in Wellesley Square is back in business. I stopped by to take an interior shot of the shiny newness of it all, but when I asked for the OK, I was told that actually, it wasn't OK to do so at this very minute. My eyes glazed over as the polite employee said things like "we have to contact corporate" and "that'll probably take 24 hours" and "at that point we can set up a time for you to come in for a shot when a manager is present."
Gimmee a break, I'm blogging about a coffee shop reopening, not doing a photo shoot for Architectural Digest or trying to steal trade secrets. Last month, I took pictures of the Monets at the Museum Fine Arts, and nobody said boo to me.
And mind you, this is the same supposedly social media savvy business that invited patrons to take selfies and go hashtag crazy on Instagram and so forth with goofy BFF, etc. signs for Valentine's Day. We kept coming across these things at rest stops during an east coast road trip last week.
Anyway, I decided that an exterior shot would do. As I vied for the proper angle, a group of four Cool Girls wearing LL Bean duck boots and black down jackets slowed down as they passed. "I went in already and it looks literally the exact same," said one.
I wouldn't go that far. I mean, they did gut the place, and there's additional seating in the back, and rough-hewn wood accents here and shiny new tile there. But yes, it's a Starbucks, alrighty. They did a renovation, not a re-imagination. They've worked out some initial Wi-Fi issues and now they stand ready to serve up your favorite beverage. Just don't try to photograph your experience — or at least don't ask for permission.