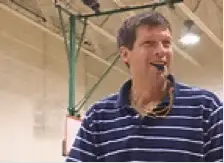 "The State of Play – Challenges & Opportunities in Youth Sports" will be a community discussion featuring Bob Bigelow, former NBA player and nationally recognized speaker. Bigelow will be joined by a panel of community members to add perspective on the many psychological and physical issues in today's youth sports environment.
(We spoke to Bigelow a few years back, as you can read here.)
Held Monday, March 21st, from 7-9pm in The Wellesley Middle School auditorium, "State of Play" will be co-hosted by The Wellesley Youth Commission & non-profit Community Investors.
Free of charge but pre-registration suggested. Information and registrations are available at http://www.communityinvestors.net.
MORE: Kids stuff in Wellesley