Add this to the list of things we never saw coming for The Swellesley Report: A speaking tour in Wellesley and beyond.
OK, it's not quite that elaborate, but Mr. & Mrs. Swellesley have taken our show on the road this month to enlighten and entertain the masses. No more hiding behind our computers and smartphones, I guess.
We started at Wellesley High School Seminar Day, where for the past two years we talked about Swellesley. This time around we switched it up and discussed How to Break A Guinness World Record, with a very special yo-yo demo by Swellesley Jr.
This happened on #Wellesley High School Seminar Day #yoyo pic.twitter.com/hllVpfS6QB

— swellesley (@swellesley) March 9, 2016
Next, Mr. Swellesley visited Lasell College in Auburndale on Monday to discuss the transition from print to online to mobile and social media with students taking an Understanding Mass Media course. To my surprise, there was even a student there who lives in Wellesley and knew us well.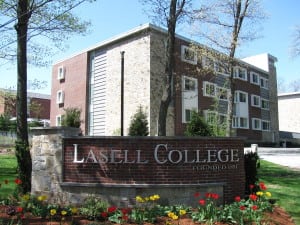 Then on Tuesday, Mrs. Swellesley dazzled the Wellesley Men's Club at Wellesley Friendly Aid, with a huge assist from the Wellesley Service League. The men had Mrs. Swellesley blushing when they told her that their wives were jealous they didn't get to come.
I don't think we're quite ready to give the next "You're Not Special" graduation speech at Wellesley High, but we'll see where this goes next…