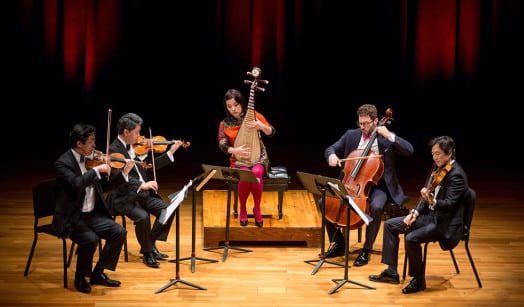 Wellesley College will host Wu Man, the biggest name in pipa music, and the Shanghai Quartet  for a free and public concert at Alumnae Hall on Sunday, April 3 at 3pm.
Grammy-nominated Wu Man has produced music for the 2004 Olympics in China, toured with Yo-Yo- Ma's Silk Road Ensemble and more.
And about that pipa: It's a lute-like string instrument said to used for blending East and West musical styles.
The program's highlights include a new multimedia work by Chinese composer Zhao Jiping in collaboration with his son, Zhao Lin. Wu Man and the Quartet will perform some of the father-son duo's most famous scores of Chinese cinema, including Raise the Red Lantern, To Live, and Farewell My Concubine. The program also includes a suite of traditional Chinese folk songs arranged by Quartet violinist Yi-Wen Jiang, as well as solo pipa works by Wu Man.
While the concert is free, reservations are recommended; tickets can be reserved here or by visiting the Wellesley College Concert Series website.
RELATED:
An invitation to get Wellesley singer/songwriter Fred Kelly's music stuck in your head