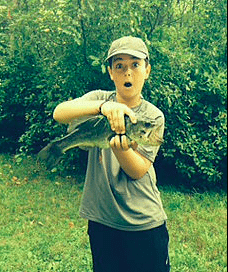 If you don't know what a Lunker is, Wellesley Middle School 6th grader Zeb Jacoby suggests you grab a fishing pole and find out this weekend.
Jacoby has a fun new website, dubbed Wellesley Lunkahs, that tells you all you need to know about Lunkers — "an exceptionally large specimen of something, in particular (among anglers) a fish" — and Lunkfest 2016, a weekend-long fishing challenge in Wellesley this April 16-18. The website features a form you can fill out to describe where you caught your fish, its size and species. You're also invited to send along a photo (not that he doesn't trust you about the size…).
A Wellesley resident since he was in kindergarten, Jacoby says he's fished "since I was able to hold a fishing pole." He credits his Uncle Steve for teaching him so much about fishing. "He lives in Ohio where there are lakes everywhere," Jacoby says.
While I wasn't about to pry specifics from Jacoby about his prime fishing spot, he does say that Morses Pond is his favorite in general because  "that's where you can catch the biggest fish."
Jacoby enjoys fishing because it's relaxing, a great way to meet people and a good way to learn about interesting fish.
Think of this all as a sort of crowdsourcing event as well as a fishing one. Jacoby says: "I hope that we can collect lots of information so that we can learn more about what is local to Wellesley.  That is my main goal.  To try to help better understand what is in our ponds and where they might have come from!"
RELATED: Prolific Wellesley author releases "The Perfect Catch"