This week we've posted prolifically, as always, but in case you couldn't find time to read every gem of a word, we've ruthlessly edited the chatter leaving the top Wellesley stories here for you to buzz through.
Spring plays coy, winter revisits
April's snowy entrance led the news. The white stuff dared to accumulate a few inches, temperatures fell into the teens, and the tulips and daffodils keeled over, looking defeated by the late-season pummeling. The winter-in-spring nonsense had such a soporific effect on me that double doses of caffeine couldn't keep me going at full speed, and extra chocolate didn't make up for the hardship of it all. Even the trees had something to say about the conditions. Some in town simply gave up their fight with the wind and fell down, while one tree kept up its spirits by pretending the calendar said it was Christmas, not April.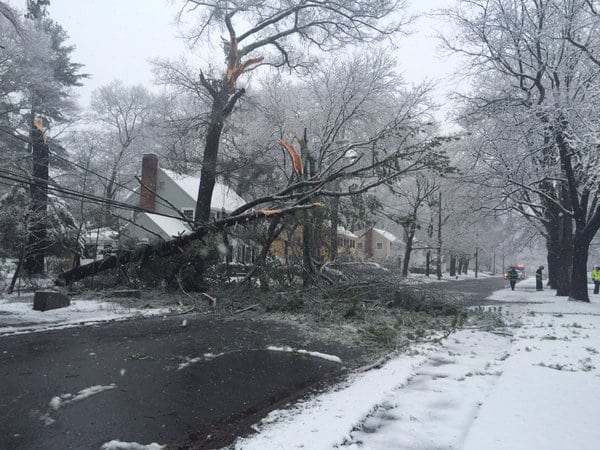 Wellesley man fesses up to swiping 1 million from employer
A 44-year-old Wellesley man has been sentenced to 18 months in jail after pleading guilty to stealing $1 million from his Cambridge-based employer. Andy Kim, who worked for an unnamed technology company, also was sentenced to a year of probation, according to U.S. Attorney's Office in Massachusetts.
Business changes afoot in Wellesley
The thread has run out for The Button Box. After 21 years in business, first in Needham and then on Route 9 in Wellesley, long-time owner Karen Gentile is retiring. Although she wanted to turn the shop over to new owners, that isn't going to happen. She shared this note with patrons: "Our hope of turning the shop over to new management has been dashed. Our building has been sold. Our landlord asked the new owners to extend our lease but the new owners refused. We must leave the building.  It is all out of our hands.The delightful group of potential buyers I had been working with are just as disappointed. They have more time, now, to find a location that suits them and open a new quilt shop soon. You may be seeing Button Box employees helping out at a new location.  I will teach classes there if asked and do whatever I can to help."
Gentile says the store will remain open through Spring. 
In other closing news, sometimes you're just hanging out getting your hair done, same old deal as six weeks ago, and you hear the astonishing news that Alex and Ani has closed. I felt like I was in a scene from Steel Magnolias, where all the small-town gossip is as teased out as Dolly Parton's hair, as dissected as Julia Roberts' upcoming wedding. If you find yourself in need of Alex and Ani's signature bangles and chains, you can always make a pilgrimage to their Boston and Foxborough stores.
Wellesley High issues MRSA warning
Wellesley High School on Wednesday issued an alert that a single case of Methicillin-resistant Staphylococcus aureus, better known as the skin staph infection dubbed MRSA, has been confirmed at WHS.
Wellesley kids not misspending their youth
The Boston Globe has published its All-Scholastics team for winter sports, and Wellesley is well represented as usual. Click here for more sports news about basketball, golf, and pony club.
Meanwhile, in the arts, half a dozen Wellesley High School ensembles took part in the annual Massachusetts Instrumental & Choral Conductors Association (MICCA) Festival, and they really cleaned up on the medal front.
You can still catch a WMS performance of Shrek Jr., the musical. Remaining performances run Friday, April 8 at 7pm and Saturday, April 9 at 2pm and 7pm.
Wellesley senior center project gets town meeting ok
Town Meeting members voted 157 to 42 in favor of appropriating funds for the $9M-plus project, which has its roots in an $825K gift to the town in 2005 from the late Billie Tolles. So yes, many who weren't seniors at the time might now be in line to take advantage of such a facility, whose approval has been delayed due to concerns about cost, parking and more.
The project will move forward if Wellesley residents approve a nearly $5.5 million debt exclusion on May 10 during a Special Election.
Looks like Wellesley commuter rail voices heard on proposed schedule changes
The most interesting revelation in a new MBTA document is a mention under Key Concerns that "earlier trains in Wellesley Station Stops make school drop-offs difficult" and that among the proposed changes in response to such comments is that "Train 510 will make all stops in Wellesley at approx. 8:30 AM." Read more here. 
For more Wellesley news, go to our Facebook page and like us. Also, follow us on Instagram to see what parts of town we've been wandering lately.