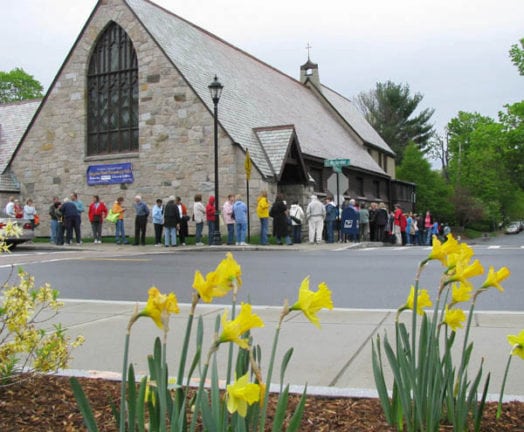 The annual Bargain Haul at St. Andrew's Episcopal Church, will be held Saturday, May 7th from 8:30am – 12pm. Bag sale 11:30. 79 Denton Rd., corner of Washington St. (Rt 16), Wellesley. The enormous selection includes jewelry, clothes, toys, housewares, books, electronics and more. Admission is $2. Rain or shine.
Nearby, Christ Church United Methodist Wellesley at 2 Brook St., is holding its rummage sale from 9 am to 12 noon. Great stuff at bargain prices: household goods, clothing, toys, all priced to sell. Refreshments served.
BONUS! Appleby Road (two streets over from Denton) is having its own multi-family yard sale from 9am–1pm to entice the bargain hunters already in the neighborhood.  Seven homes are putting our everything from furniture, toys, baby gear, clothes, books, antiques, and more.
Up the road a bit, Wellesley Hills Congregational Church at 207 Washington St., has its rummage sale from 8:30am-noon, and members get to sneak in the night before starting at 5:30pm.
While you're on a roll, also check out the Wellesley Historical Society's Tollhouse Shop, which as always, is open on Saturdays from10am-noon (as well as Wednesdays, 11am-3pm).