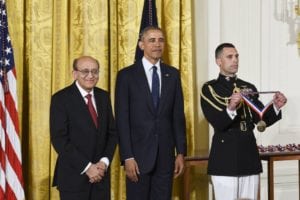 Mass General Hospital has announced that Wellesley resident and Mass General cancer researcher Dr. Rakesh Jain was awarded the National Medal of Science – the nation's highest scientific honor. Dr. Jain, PhD, director of the Edwin L. Steele Laboratory for Tumor Biology in the Department of Radiation Oncology, is the first-ever MGH investigator to have won the award.
"I feel deeply honored and enormously pleased to receive this honor. This is beyond any expectation I ever had," says Jain. "This really honors my entire team – my colleagues, my collaborators and my students. It is their collective work and a journey that I have not been alone in."
The Medal of Science is the nation's highest honor for achievement and leadership in advancing the fields of science and technology. The award was created by statute in 1959 and is administered for the White House by the National Science Foundation. It is awarded to individuals in science and engineering who have made outstanding and important contributions to the advancement of knowledge in the fields of behavioral and social sciences, biology, chemistry, engineering, mathematics and physics.
"Science and technology are fundamental to solving some of our nation's biggest challenges," said President Barack Obama in a White House press release. "The knowledge produced by these Americans today will carry our country's legacy of innovation forward and continue to help countless others around the world. Their work is a testament to American ingenuity."