The 900 Worcester St. Committee will hold a public hearing on Tuesday, May 17 at Wellesley Town Hall to discuss the sole proposal to convert the former St. James the Great Property on Rte. 9 East into a multipurpose recreational complex.
That proposal would be for a facility that boasts two sheets of ice, an indoor turf field, and a fitness/aquatic facility with two pools (there is no track included in this plan, as there had been in a competing proposal in the earlier round of pitches).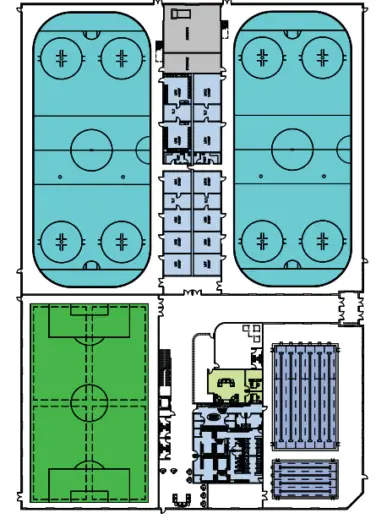 As you might recall, the committee received three pitches last year in response to its original request for proposals (RFP), but wound up not recommending any of them due to concerns about parking, financing and more. A revised RFP, seeking responses by the end of this past April, elicited just one proposal — this from a developer called Marathon Sports Group (not to be confused with the local running store) that had also responded to the original RFP.
Of the three original proposals, the Marathon Sports one was in the middle size-wise, and the new $20M-$25M proposal is essentially the same as the original. However, whereas the original was tied to the West Suburban YMCA raising over $10 million to run the facility — a point of concern by the committee — the updated proposal basically gives the Y a shot at running the facility, but will move on to a different operator if it can't.
Marathon Sports has experience developing recreational facilities. It can, for example, point to The Edge Sports Center in Bedford (two sheets of ice, two turf fields, including one that is bubbled over in winter) and the under-construction Essex Sports Center in Middleton, Mass.
The committee and the public will have a chance to quiz Marathon Sports at the meeting next week, says 900 Worcester St. Committee Chair Andy Wrobel. Among the committee's concerns: The size of the pool and how the operations of the center would be financed.
The understanding would be that the facility would provide a resource for Wellesley Public School swimming and hockey teams, and give priority access to Wellesley sports leagues/the Recreation Department/local seniors.
After gathering public feedback and mulling the proposal, the committee plans to come up with a recommendation for the Board of Selectmen in early June. If the proposal is approved by the committee and BoS, the board could begin leasing negotiations with Marathon Sports, ultimately leading to a Town Meeting vote. Marathon Sports expects its plan would result in paying more than $100K in real estate taxes per year to Wellesley and around $50K in leasing per year to start.