Nearly 20 Wellesley High student-athletes headed down by plane or car to the New Balance Nationals in Greensboro, NC, and a handful will return to town as All-Americans.
WHS athletes competed in a variety of relay and individual events (shown below, Jojo Kennedy getting the girls' 4×200 team off to a fast start, and Ryan Parker handing off to Graham Harris in the 1600 boys sprint medley).
New WHS graduate Thomas D'Anieri doubled up on All-American honors by finishing third in the Championship 2-Mile race on Saturday night, then coming back Sunday morning to help the 4 x 1 Mile team to a 6th place finish in a time of 17:31 (New Balance designates the top 6 finishers in championship events as All-Americans). Joining D'Anieri on that relay team — which averaged a sizzling 4:23 per mile — were his twin brother Matt, as well as rising WHS seniors Ben Matejka and Sam Gilman. The same foursome set a state record in the indoor version of this event earlier this year.
D'Anieri's 9:05 time in the 2-mile race broke a 42-year-old WHS record of 9:11.4 set by Mark Murray and ranks #13 all-time in Massachusetts high school outdoor 2-mile times.
One of D'Anieri's secrets to success: Hanging loose in this portable hammock before races.
The highlight among the girls participating was freshman Julia Jordahl-Henry's 6th place finish in Saturday's emerging elite high jump competition, in which she set a Wellesley High record at 5 feet 7.75 inches, and earned herself an invitation to the championship event the next day. Jordahl-Henry's highest jump of the day prompted her mom to flop over backwards onto the grass in joy (I wasn't quick enough on the camera shutter to capture that, but I did give her a hand getting back on her feet).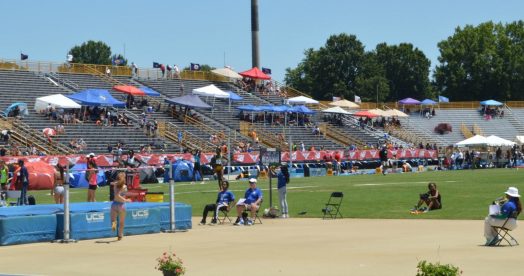 Swellesley's favorite non-WHS runner and neighbor, Natick High freshman Grace Connolly, also wowed the crowd by winning the freshman mile race in just over 5 minutes.
And just to make spectators feel even slower, the best male and female race walkers (something you don't see at Massachusetts track meets) circled the track four times in less than 7 minutes.
For track geeks in the crowd, you can relive the event via videos on the NB site.
The event itself was part of high school track's busiest weekend, with the Brooks PR invitational on the west coast and the Adidas Boston Boost Games in Somerville/Boston also taking place.
In North Carolina, the Wellesley High students coped well with temperatures in the 80s and 90s, buoyed by the great competition and overall spirit of the event, kept lively throughout with pulsating music and excitement over coming away with coveted black-and-orange backpacks.