The Davis Museum at Wellesley College has revealed a handful of exhibits slated to open in late-September and run through mid-December.
The Davis Re-Discovered—Opening Celebration!
Wednesday, September 28, 2016
6:00pm – 9:00pm
We are delighted to announce a major reinstallation of the Davis permanent collections galleries. Highlighting an array of exceptional objects, many unknown to the Wellesley community and the public at large, this project will reveal artworks of the highest quality from the Museum's encyclopedic holdings and foreground Wellesley College's rich legacy of collecting and philanthropy.
Curatorial Gallery Talk: Anni Albers Connections
Tuesday, November 15, 2016 | 4:00pm | Davis Galleries
Exhibition curator Claire Whitner will discuss Anni Albers's autobiographical silkscreen series Connections in relation to her career as a designer from the Bauhaus to her late work from the 1980s.
Film Series: Museums in Motion
All films take place in Collins Cinema beginning at 6:30pm.
In honor of the Davis's newly installed permanent collections galleries, uncover the secret life of museums through this selection of recent cinematic masterpieces. These contemporary films pull back the curtain on unique, behind­ the­ scenes views of museum activities and characters, both real and imagined.
Museum Hours is a tale of two strangers who find refuge in Vienna's grand Kunsthistorisches Art Museum. Johann, a museum guard, spends his days silently observing both the art and the visitors. Anne, suddenly called to Vienna from overseas, has been wandering the city in a state of limbo.
Picturing the Sixties: Photojournalism in the Age of Picture Magazines
Collins Cinema
Wednesday, October 19, 2016
6:30pm
Former Look and Life magazine staff photographer John Shearer joins Annie Segan, daughter of renowned photographer Arthur Rothstein, for a panel discussion about picture stories, photojournalism, and political change moderated by exhibition curator Ileana Selejan.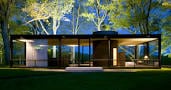 Lecture: The Philip Johnson Glass House: An Architect in the Garden

Collins Cinema
Wednesday, October 26, 2016, 6:30pm
Join Maureen Cassidy­-Geiger '78 for an illustrated presentation of her new book, The Philip Johnson Glass House: An Architect in the Garden, the first comprehensive history of the architect's sublime 49­acre suburban estate, evolved between 1946 and 2005.Family Day: Around the World in 6,000 Years
Sunday, November 5, 2016, 11:00am – 3:00pm
Davis galleries, lobby, plaza; Collins Cinema and Cafe
Travel through time and around the globe via this experience designed for visitors of all ages. Discover a world of art through treasure hunts, art making, performances, visiting artist demonstrations, guided tours and more.The Davis Reimagined
Saturday, November 12, 2016 | 11:00am – 4:00pm
Explore our extraordinary permanent collections through a new lens as we activate the galleries with a day of performances, talks, art making, and workshops. Create your own program: drop in for one presentation, or stay for more.
New! Delve Into the Davis for Visitors with Memory Loss and their Caregivers
Thursday, November 17, 2016 | 10:00am | Davis Galleries
The Davis invites visitors with memory loss or early Alzheimer's disease and their caregivers for a guided exploration of our permanent collections. Each thematic program encourages discovery through discussion and multisensory experiences. Individuals are invited to join us for the pilot program on November 17 with advance registration; private groups are encouraged to book a custom program on a separate date. Visit www.thedavis.org for more information and to register.