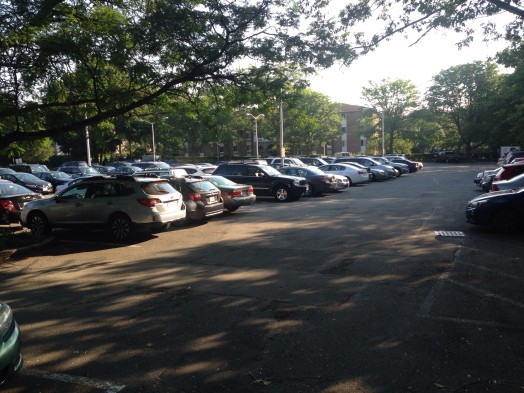 Starting Aug. 1, commuters who aspire to park in one of the 474 spaces located in the three commuter lots in town — Wellesley Square Tailby lot (224 spaces) , the Wellesley Hills lot (51 spaces), and the Wellesley Farms lot (199 spaces) — will see a change in rates. If you're a Wellesley resident, you're going to like what you see. If you're not, you will likely grumble something along the lines of "them that has, gets," but keep your relationship with the Wellesley parking lots going because, let's face it, Wellesley resident or not, a person has gotta get to work. And it's not cheap to do so, especially when the cruel laws of supply and demand start enforcing themselves.
Here's the thing: According to Terry Connolly, Deputy Director of the Board of Selectmen, the commuter rail lots are currently operating over capacity, and the lack of parking has caused some spillover into neighboring residential streets. "The lots have been oversubscribed for over a year, necessitating the price increase," Connolly said. "This is not a money grab, it's an opportunity grab. We need the space."
And when the Town determines that space is needed in the lots serving MBTA commuters, it doesn't have to wait around for MBTA approval to take a stab at enacting such a change. That's because Wellesley, unlike most of the towns up and down the commuter rail, owns and operates the lots here in town, and therefore determines the parking rates and rules. (Rates in other towns are generally $4/day, with no discounts for residents or employees of that town.)
As of today, these are the rates for the Wellesley commuter rail lots:
*Cash (Coin) $4.50/day for residents and non-residents
*Credit card $4.50/day for residents and non-residents
*Resident/local business stored value card $3.00/day
*Non-resident stored value card $4.50/day
Stored value cards are sold and can be replenished at the Treasurer's Office at Town Hall. The maximum amount that can be added to the card is $150, and payment is by cash or check only. There is no cost to the customer for a stored value card. These rates have been in place since 2007-2008, when the current parking machines were purchased.
That's right now. But the future is coming, and it starts Aug. 1, at which time the daily rates will change, as approved by the Board of Selectmen at a public hearing that took place on Monday, June 27.
As of Aug. 1, these are the rates for the Wellesley commuter rail lots:  
*$3/day for residents and local employees with the use of the stored value card remains unchanged.

*$6/day for coin, credit card, and non-resident stored value card (currently the daily rate is $4.50/day for all those payment types).
These are the long-term rates for the Wellesley commuter rail lots: 
In 2016, a yearly pass, which is based on the calendar year (January – December) costs $480/year for residents or the employee of a local business and $960/year for non-residents. Passes can be purchased anytime at a pro-rated rate and may be returned for a refund for the remaining months. In consideration of the non-residents who use the lots, the Selectmen agreed to consider the cost of the 2017 Yearly Parking passes for non-residents. It's currently $960/year, and staff will propose any recommended rate change in Fall 2016.
Basically the Town maintains that it is trying to provide parking for customers, commuters, and local merchant employees. Wellesley residents are a portion of all those groups,  and the overriding goal is to provide needed parking for Wellesley residents and employees of Wellesley businesses. The towns says that increased revenue is not what it's after. "We need to balance the needs for all, and it's a tough balancing act," Connolly said.
With only about one thousand spaces total in town for shoppers, commuters, and employees, anyone who has searched the commuter lots for all-day parking or cruised the strip that is Washington St. for shorter-term parking needs is familiar with the challenges. If you've lived in town for a while, you know some parking secrets, but don't worry, I'm not going to blab them here.
One thing isn't changing — even with use of a stored value card or a yearly pass, parking spaces are not guaranteed and are available on a first come, first parked basis.  
For more than you really want to know about parking in Wellesley, you can take a look at the Town of Wellesey Comprehensive plan update. Interesting stuff, but consider that this comment comes from the daughter of a former City of New Haven traffic engineer. Browsing through the comprehensive plan update was a little like reading a script of the dinner-time conversations of my childhood. Yep, I was in on all the cutting-edge conversations about curb cutting every intersection in New Haven to make crosswalks wheelchair accessible, as well as the trials and tribulations of changing two-way streets to one-way streets. At one time, I was even conversant about the pluses and minuses of revamping a city's traffic signal system. All this memory lane stuff is almost enough to make me subscribe to the Institute of Transportation Engineers (ITE) journal, just to see its familiar pages lying around the house.
At some point, Wellesley hopes to allow parkers a pay-by-phone option, but this won't be a simple transition. This would require real-time lookup of license plate numbers by a parking attendant, among other things. So that's a post for another day.
RELATED: From Newton's Village 14 — Have you used Newton's new parking app yet?