You may remember a couple of years ago when artist Tony Matelli's outdoor installation at Wellesley College of a short, balding, guy with a poochy belly and wearing tighty whiteys was the talk of the town. Titled The Sleepwalker, the painted bronze sculpture graced a prime spot on the main drag through campus, just outside of the Davis Museum, for three glorious months in 2014. From the time he landed until the time he left, the facsimile of a middle-aged white man somehow made himself the center of attention at a school that prides itself on doing its level best to push middle-aged white men outside the center of attention.
Some students, citing feelings of insecurity when they walked by him and suggesting that he could be a "trigger" for those who had experienced sexual abuse in the past, signed a petition for his removal. Others posed with him for selfies. In the end, someone, student, community member from the larger Wellesley town, or an outsider, we don't know who, defaced him, and two other Matelli sculptures that were on campus, with paint. All the sculptures were removed from the outside, but the exhibit inside the Davis Museum remained until the end of its scheduled run.
Truthfully, I've sort of missed the big lug, so when I heard that he had recently taken his talents to New York City's High Line Park, I figured it was as good an excuse as any to go on a road trip. It was quite an adventure, and I covered a lot of ground in one New York City day, but I did it all for readers of The Swellesley Report. In addition to my hard-hitting journalistic follow-up to The Sleepwalker, I've got a great restaurant recommendation for you, plus I attended a presentation by Christopher Kimball (formerly of Cook's Illustrated magazine), who is on the road to promote his brand-new monthly publication, Milk Street Kitchen.
First things first. Lunch. If left to my own devices, I would have gotten off the train at Grand Central and wandered a bit aimlessly, waiting for something to present itself. Luckily, I was meeting up with a cool local, so I was instead ushered into the Renaissance Hotel at 218 W. 35th St. Once there, we took the elevator five floors up to Rock & Reilly's 8,000 square-foot terrace where we settled in for a fabulous lunch and were also treated to an expansive view of the city, including nearby Madison Square Garden.  I tried out the cast iron octopus with roasted fingerling potatoes, pequillo pepper puree, olives, and salsa verde ($18). Fantastic. I followed that up with a respectable Caesar salad ($15), while my friend ordered the chopped salad that included radicchio, corn, and avocado ($16). Other tempting things on the lunch menu:  cheeseburger spring rolls; wild mushroom flatbread; grilled branzino (a sea bass-type fish) with braised escarole and white bean stew; and creative burgers.
Failing to convince my lunch companion to ditch work and tear up the city with me, I hugged her and went on my way. From there I headed to the 11th Ave. and 34th St. entrance of the High Line, a 1.45-mile-long New York City linear park built in Manhattan on an elevated section of a disused New York Central Railroad spur. With the spirit of an urban explorer, I began the search for our man, The Sleepwalker.
The High Line is currently home to an art exhibit of about 12 installation pieces, including you-know-who. I took my time and meandered along until at last, there he was, the rock star himself, doing what he does — posing for selfies with the unselfconscious air of one who is accustomed to…admiration? Ridicule? Objectification? The Sleepwalker endured (or reveled in, he didn't say which) all of that while I sat and observed the New York way of responding to him. I struck up a conversation with a group of his admirers. "You know," I said, "in some areas The Sleepwalker is considered an almost dangerous figure." They looked at The Sleepwalker. Then they looked at me, edging away as warily as if I were Cliff, sitting at the end of the Cheers bar, expounding on the firsts of the Mesopotamians. One of the braver of the group agreed to snap a pic of me with our man. Gingerly, she handed the camera back to the crazy lady me.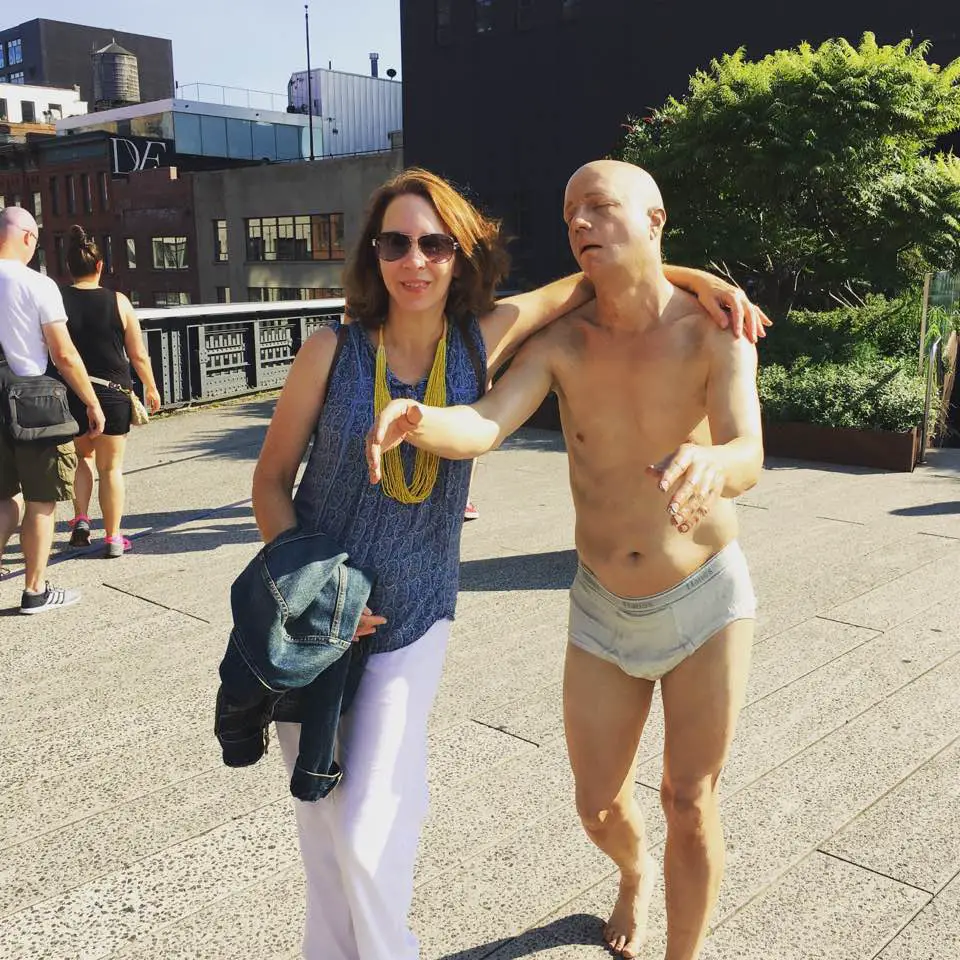 My photo shoot a wrap, I took a much deserved strawberry gelato break, then reached the end of the High Line at Gansevoort St. in the Meat Packing district. From there, I walked about 20 minutes through some lovely neighborhoods on my way to the next stop: the New York University Skirball Center for the Performing Arts, where culinary giant Christopher Kimball was presenting his Magic Mystery Tour. You probably know Kimball as the former publisher of Cook's Illustrated magazine. Well, he's left that publication to strike out on his own with a new venture called Milk Street Kitchen. He claims he's entirely rethought his approach to cooking. The idea, he says, is to use simpler, more streamlined cooking techniques combined with more powerful combinations of ingredients which will give you the ability to produce dishes that, until now, you thought were beyond your culinary skills. We're talking stuff like Thai-style coleslaw, and grilled spicy broccoli, all without long lists of hard-to-find ingredients.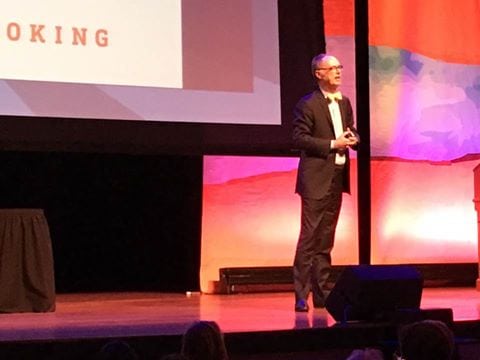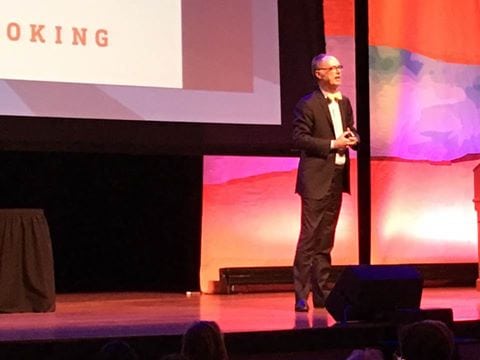 It's called Milk Street Kitchen because the venture's editorial offices and cooking school are located in downtown Boston at 177 Milk Street. It's also where they record Christopher Kimball's Milk Street television and radio shows. The first issue of the magazine comes out in October, and you can get a free copy here.
This new way of cooking hasn't translated into a new way of dressing for Kimball. On stage in his customary bow tie (and at one point, a Carmen Miranda fruit headpiece!), Kimball took the audience through a test to find out if they were super tasters (I'm not), railed against excessive substituting when trying a new recipe, and reminded the crowd that Americans' fear of salt in their home kitchens is entirely misplaced, given that the vast amount of salt consumed in this country comes not from home cooking, but from all the prepackaged nonsense we consume on a daily basis. It was all classic Kimball cult stuff. And since so many of his Cook's Illustrated recipes are in our regular rotation at home, I suppose you could call me one of the faithful, willing to allow the Magical Mystery Tour to come and take me away into bold flavors and streamlined cooking techniques. On the days I'm not getting Comella's take-out, that is.
My adventure complete, I ubered back to Grand Central terminal to hop a train home. It was a good adventure, and it was very nearly perfect. My only regret is that I threw away my shot and didn't make it to a performance of Alexander Hamilton. My request to their stage manager and their corporate office was so small. Just one, teensy, weensy complimentary press pass for the Wednesday matinee. Swellesley readers need to know all about the show before it comes to Boston, I reasoned to them — or to the girl who screened my call and passed it along to someone's voice mail, anyway. I'm sure it was the voice mail of someone very important.
But the final answer was a big nope. Nobody gets comped into the wizard that is Hamilton, not nobody, not no how, and that includes The Swellesley Report. Nice try, though. Like Dorothy from the Wizard of Oz, I'm back where I belong now, here in Wellesley, and there's no place like home, and I'm not going to leave here ever, ever again. Until next time.
UPDATE: My visit to NYC took place this time last week, a few days before a homemade pressure cooker bomb exploded on West 23rd St. in the Chelsea neighborhood of Manhattan, injuring 31, 24 of whom were taken to area hospitals. Police have arrested Ahmad Khan Rahami who is accused of setting off bombs in Manhattan and in Seaside Park, NJ.
I texted my girl. "Okayyyy. So bombs going off in NYC, near where you work, right? Damn, we should have been drinking during lunch. U never know what's going to happen next in this world."
"Yes, it was 2 blocks away from where we were," she replied.
It's scary out there in the world, but I'm still going out there.