New York Times President and CEO Mark Thompson reads from Enough Said: What's Gone Wrong with the Language of Politics?, his fascinating new book about politics in the western world.
Saturday, October 1st 2016 @ 4pm, at Wellesley Books, 82 Central St., Wellesley
Enough Said tells the story of how we got from the language of FDR and Churchill to that of Donald Trump. It forensically examines the public language we've been left with: compressed, immediate, sometimes brilliantly impactful, but robbed of most of its explanatory power.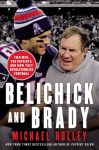 Friday, October 7th 2016 @ 7pm
Michael Holley – Belichick and Brady: Two Men, the Patriots, and How They Revolutionized Football
& Jerry Thornton – From Darkness to Dynasty: The First 40 Years of the New England Patriots
Author appearance, reading, Q&A, and book signing at Wellesley Books
From the NYT bestselling author with unprecedented access to the Patriot franchise, comes Belichick and Brady, the epic, inside story of the rise and dominance of Tom Brady, Bill Belichick, and the New England Patriots.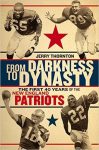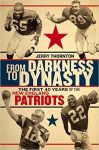 From Darkness to Dynasty tells the unlikely history of the New England Patriots as it has never been told before. From their humble beginnings as a team bought with rainy-day money by a man who had no idea what he was doing to the fateful season that saw them win their first Super Bowl, Jerry Thornton shares the wild, humiliating, unbelievable, and wonderful stories that comprised the first forty years of what would ultimately become the most dominant franchise in NFL history. Author Jerry Thornton is cohost of the daily Dale and Holley Show on WEEI, Boston's leading sports radio station.
As part of our ongoing "The Joy of Cookbooks" series, acclaimed Cambridge chef Ana Sortun joins us with her new cookbook, Soframiz: Vibrant Middle Eastern Recipes from Sofra Bakery and Café
Friday, October 14th 2016 @ 7pm. Author appearance, reading, Q&A, book signing, and food tasting, at Wellesley Books
*Note: this is a ticketed event. Tickets are $10 and include a food tasting.
A charming collection of 100 recipes from Cambridge's Sofra Bakery and Cafe, showcasing modern Middle Eastern spices and flavors with exotic yet accessible sweet and savory dishes geared toward everyday cooking and entertaining. With a primer on essential ingredients and techniques, and recipes such as Morning Buns with Orange Blossom Glaze, Whipped Feta with Sweet and Hot Peppers, Eggplant Manoushe with Labne and Za'atar, and Sesame Caramel Cashews, Soframiz will transport readers to the markets and kitchens of the Middle East.