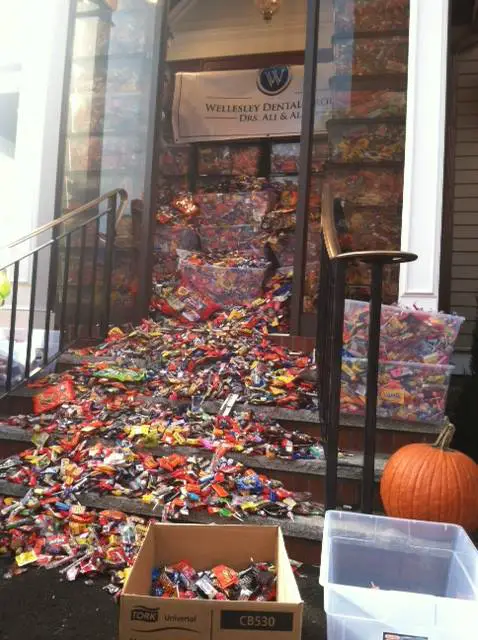 Whatever you do, don't let the kids eat every last piece of candy they bring home on Halloween. Negotiate a strategy now, before they stumble home in a sugar-induced haze, with "mine, all mine," written all over their chocolate-smeared faces. Remind them that there are some people in this world who actually do not have over 500 pieces of candy all to themselves, if they can believe such a thing. And inspire them to do something about it. Here's how:
All Metro-West Schools are invited to join Wellesley Dental Group's 9th Annual Community Candy Drive to benefit the U.S. troops serving overseas. From November 1st to November 9th, the Wellesley Dental Group will be collecting candy, as well as handwritten notes and cards, to be sent to American servicemen via non-profit organization CarePacks, along with oral hygiene supplies.
Continuing last year's tradition, the competition is bigger than ever. The Wellesley Dental Group will be awarding a grand prize of $1000 to the school PTO that donates the most candy. The winning school will be selected based on the amount of candy donated divided by the number of students in the school, to ensure fair competition. The Candy Drive is open to any school or institute that is interested in participating in this cause. 
The Wellesley Dental Group also invites schools and organizations to be a part of their Veteran's Day event on November 10th at 10:00 am, at their office in Wellesley. Principals, faculty members, parents, and students (with the permission of their parents and teachers) are welcome to attend. Local institutions, media and photographers are also invited to participate. RSVP requested.
To schedule a candy drop-off, please call 781-237-9071 or email the Wellesley Dental Group at candydrive@wellesleydentalgroup.com.