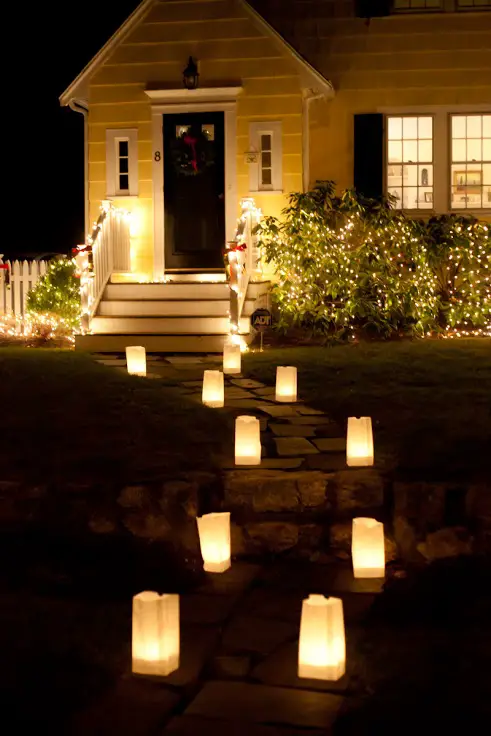 SPONSORED POST: It's time to start planning your participation in The Wellesley Hills Junior Women's Club's (WHJWC) 10th Annual Luminary Night, which this year takes place on Sunday, Dec. 11. On Luminary Night, families and businesses throughout Wellesley light luminary candles along their streets, sidewalks and doorsteps, creating a beautiful town-wide glow welcoming the holiday season.
Luminary Night proceeds directly benefit the Wellesley community; funds are used to both support a number of local charitable organizations and create scholarships for WHS students. Last year, Luminary Night raised $27,000, with more than 13,000 candles lighting the town.
Luminary kits, which include 10 luminaries, sell for $20 apiece. Click here to order your kits online; kits purchased online will be delivered to your home between December 6th and 10th. Kits may also be purchased at Roche Brothers, the Linden Store, the RDF, Wellesley Dental Group, and Wellesley Holiday Boutique.
For more information about Luminary Night, email [email protected]
The Wellesley Hills Junior Women's Club is a volunteer organization of more than 80 women who give of their time through hands-on service and fundraising efforts.  WHJWC's annual fundraisers include Wellesley Marketplace, Luminary Night, Wellesley Kitchen and Home Tour, and the 5K Wonder Run and Kids Fun Run. The Club gives back approximately $130k annually to the local community in both grants and scholarships.