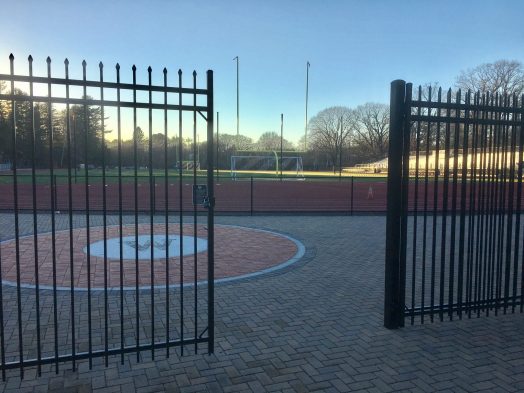 The Wellesley High School track and field had its grand opening in late October and the WHS football team was good enough and fortunate enough to get two playoff games in at the field after playing its entire regular season schedule out of town.  The WHS girls' powder puff team also worked out the new field in its annual flag football game vs. Needham High in November.
But runners, walkers and others who wanted to use the track and field have been wondering when their turn would come to try out the beautiful new facility. They showed up only to find locked gates and no signage explaining when the track and field might be open.
We got flooded with emails by readers wondering what was up with public access and Wellesley High got calls daily, too.
We heard from a town official in late November that the contractor had a few loose ends to tie up before the complex could be opened to the general public, and the hope was to open things up in mid-December. As it turns out, the town has sprung a holiday gift on residents and opened the track. On this balmy Tuesday, young people were playing ball on the field and I took my first wicked fast spin around the springy new track.
(UPDATE: 12/28/16) According to the town:
Similar to the other fields and parks in town, the new track and field are open to the public from sunup to sundown throughout the year.  Nighttime use is prohibited except for scheduled use on lighted playing fields. Signage went up  last week to indicate this.
Public access to the Hunnewell facility will occasionally be limited for ticketed events (which the public is encouraged to attend) or permitted practices (there is no public use of the track and field during practices and contests), and for a short period, likely early next summer, to complete the track surfacing.