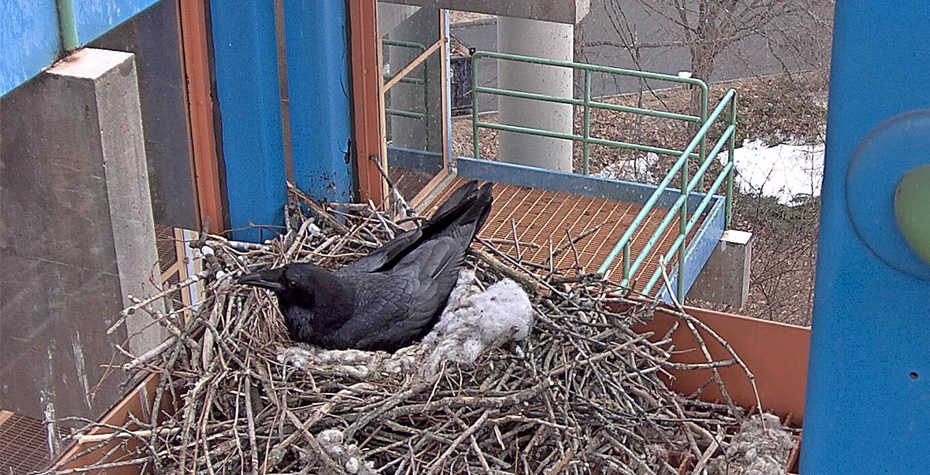 The ravens are back at the Wellesley College Science Center for the fourth consecutive year, and Mama Pauline is incubating four eggs. Papa Henry is still right by her side as the pair readies themselves for the work of raising their clutch up from hungry chicks to fledglings.
You can see all the doings right here on the live ravencam.
"Ours is the first opportunity to closely observe this most creative of birds in close contact with people," noted Professor of Biological Sciences Nicholas Rodenhouse when the birds established themselves at Wellesley in 2014. A 24/7 video recording of the nest made over the course of the spring nesting has provided a unique cache of data for researchers.
It's not easy to conjure ideas of spring and rebirth and awakening while outside the snow swirls and arctic blasts blow straight through the most winter-hardy soul, but Pauline's feathers aren't a bit ruffled by the weather. She and Henry are flexible that way. Ravens typically settle down in areas more rural than Wellesley, but finding the "right" neighborhood doesn't seem to matter much to those two free spirits. Wellesley suits them just fine year after year, despite the warnings of their in-laws and the sniffs of their friends.
The truth is, they are real estate pioneers who have alit on a bargain. According to Rodenhouse, Pauline and Henry probably chose the campus for its cliff-like buildings in a productive landscape. The Science Center, surrounded by shrubs and trees, sits along an open, sometimes damp, meadow. Their nest is high up in a partially glass-enclosed fire escape on the sunny side of the building from where they can see Galen Stone Tower, Houghton Chapel, more trees and open spaces, and Lake Waban.
Sounds perfect. Wonder if they list it on airbnb when they're not in residence.