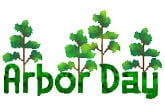 For the  past twenty years thanks to the Rotary Club, every fourth grader in Wellesley has been given a tree to plant at home in honor of Arbor Day, which this year falls on Friday, April 28.
Suzy Jordon, Wellesley's Town Horticultural Technician, leads a group of 12 volunteers in bagging over 400 tree saplings with dirt in plastic bags for distribution to all fourth graders.
Bagging the saplings is a fun project and only takes two hours. Volunteers will gather April 18th at the Department of Public Works, 30 Municipal Way, at 4pm. Use this link to learn more and register.
Jealous and wishing you were back in fourth grade so that you could get your very own tree? Your wish (for a tree, anyway) is granted. Sign up to get a free tree planted in your yard through the Wellesley Natural Resources Commission. They planted a lovely river birch in my yard a few years back to replace a ratty old pine tree that had been struck by lightning. The river birch is thriving, and our bare feet don't get shredded on prickly pine tree needles anymore. You don't need such a dramatic reason to request a tree, simply contact the NRC at nrc@wellesley.gov
The Rotary Club is also running a Taste of Wellesley event at Mass Hort's Elm Bank Reservation on Thursday, May 4.
And just because I like trees, here are a couple more pics of trees around town: