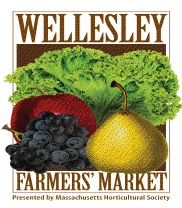 Wellesley has always had a complicated relationship with the concept and execution of a Farmers' Market. On paper, the town's demographics of an affluent population concerned about health and wellness make it an ideal spot for farmers to sell their arugula and heirloom tomatoes. The reality, however, is that the town has a well-deserved reputation for clearing out in the summer as residents de-camp to their Cape houses or travel to more exotic locales (or a little bit of both).
When I reached out to the Wellesley Farmers' market team, asking whether Summer 2017 would include a Farmers' market in town, I received this response:
"To continue with our mission of supporting local food growers and producers, while serving our community and complementing Wellesley's sustainability movement, the Wellesley Farmers' Market team is proud to announce that we are working on a new model.  This model will enable us to bring you more variety and extend our season, while we also continue to serve the Wellesley Food Pantry clientele. The new model requires town approvals. Once we receive the go-ahead, we hope to open for business in September."
OK, so the answer is no to a Summer 2017 Farmers' Market.
A Farmers' Market has struggled over the years to gain a real foothold in town. There was a small one in 2012 and 2013 in the Whole Foods parking lot, which then went on hiatus in 2014. In 2015 it came roaring back at a very pretty and much roomier location on the grounds of the Unitarian Church at 309 Washington St, where the usual healthy stuff was on hand: fresh fruits and vegetables, as well as meats, eggs and cheeses from local farms, and food from speciality providers. That one came back again for the 2016 season.
Now, however, Wellesley is faced with a Farmers' Market desert for the Summer of 2017.
If you can't just wait around until the new model hopefully opens in September, keep in mind that Natick has the most lovely Farmers' market on the Natick Green that runs every Saturday, 9am – noon. Spend some time exploring this town, contiguous to Wellesley but somehow ignored and even scoffed at as "too far" by many Wellesley-ites. Here at The Swellesley Report, we love Natick Center's Common Kitchen Cafe, the beautiful Morse Institute Library, and the many interesting indie shops, all within walking distance of each other. And of course, their Farmers' Market.
MORE ON FOOD:
Restaurant review of Wellesley's newest restaurant, CrepeBerry
THE Blue Ginger exit interview with Ming Tsai