1) Lyn Evans in Wellesley closed up shop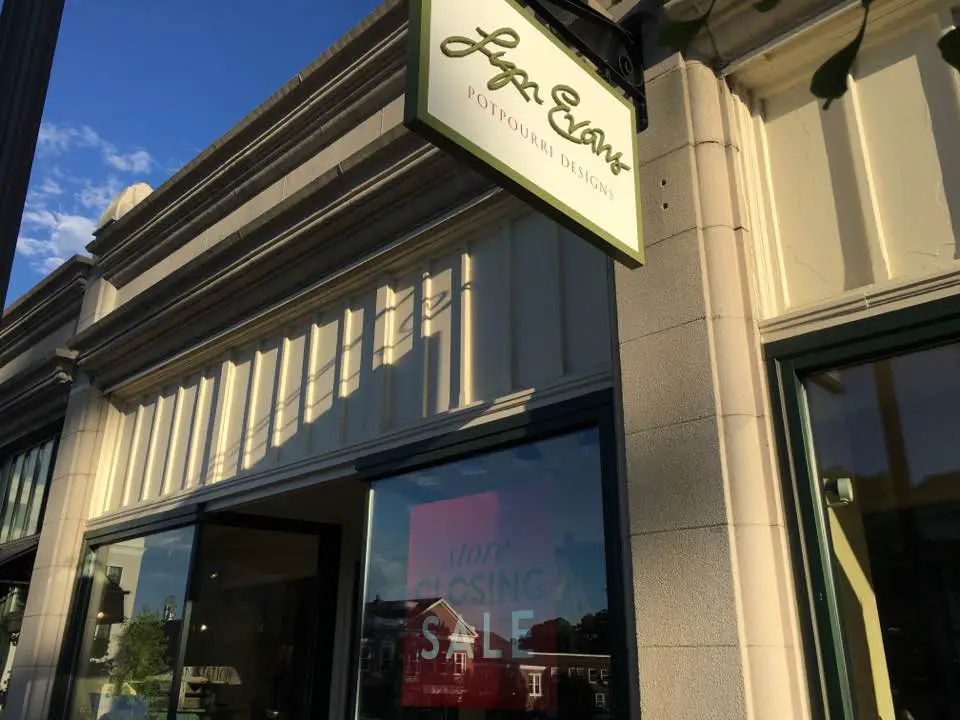 It was with surprise and dismay that we said goodbye to Lyn Evans, that Wellesley landmark that kept fashion-forward women clad in contemporary clothing and accessories for the past 30 years at its 8 Church St. location. Business owner Stan Shotkus cited in a letter the challenges of carrying on the family-owned business after the sudden death last year of his wife Linda, and thanked the community for its decades-long support. All six Lyn Evans locations, all in New England, will be sorely missed on the retail landscape as well as on the charitable cause circuit, especially by the Wellesley Service League at its annual May fashion show…MORE
2) Wellesley neighbors were given a heads up about a proposed  95-unit housing complex
The Board of Selectmen grabbed residents' attention with a letter informing them about a June 26 meeting at which it and the Planning Board were to discuss a proposed 6-story (including underground garage), 95-unit housing complex on a small road off of Linden Street. Neighbors reached out to us to air their concerns about what such a development could mean to an already congested and sometimes dangerous traffic area…MORE
3) The Fund for Wellesley dispersed over $30k to local non-profits
The Fund for Wellesley, an endowed fund of the Foundation for MetroWest that's been around since 2008, says it has distributed over $30,000 to seven local nonprofit organizations in the areas of community building and civic engagement, and youth development and opportunity.
4) Wellesley first-grade teacher was honored at Red Sox game
Tim Baldwin, a first grade teacher at Hardy Elementary School in Wellesley, was honored at Fenway Park on Saturday before the Red Sox-Royals game…MORE
5) A sculpture exhibit popped up at Elm Bank gardens
The Gardens at Elm Bank Reservation at the intersection of Dover/Natick/Wellesley are providing the backdrop for a new  exhibit from New England Sculptors Association artists featuring more than 3 dozen works…MORE
6) The Town of Wellesley ramped up a new website
While you were lying around on the beach, the Town of Wellesley, never idle, debuted a new Town website (www.wellesleyma.gov). Yes, you'll need to update your bookmarks and get familiar with the new format. HERE ARE ALL THE DETAILS.
7) Wellesley residents were tapped for leadership roles in Gov. Charlie Baker's administration
Wellesley's Michael Heffernan and Chris Harding have been assigned new and greater responsibilities within Gov. Charlie Baker's administration…MORE
8) Historic Stuart Swan building in Wellesley Square was acquired
The historic Hathaway House building at 103 Central St., in Wellesley Square that houses Stuart Swan Furniture and a handful of business/professional offices has been acquired by Harbinger Development, known in part for numerous hotel projects in Boston…MORE
9) The Centennial Reservation parking lot got a face-lift
Work being done on that sometimes treacherous Centennial Reservation Parking lot…MORE
10) A mystery flower-box waterer was on the loose
Members of the Wellesley Gardeners' Guild had been showing up to do their gardening duties, only to find the boxes already sodden and plants dying. After a flurry of communication among members, we realized that we had a Mystery Waterer on our hands. Or maybe even two. FIND OUT HOW WE COPED.
11) Woodlawn Cemetery is plotting to welcome additional "residents"
Driving on Brook Street, I was surprised to see a major project taking place at the 47-acre, Woodlawn Cemetery, privately owned by the Woodland Cemetery Board of Trustees. The usual cemetery stillness was being shattered by earth-moving equipment, and a once-thick buffer zone of trees and vegetation between the grounds and Brook Street was looking mighty thin, indeed. I stopped by and found out that the reason for these major topographical changes is simple: the cemetery is running out of space to lay people to rest and is therefore adding approximately 2,500 new grave sites…MORE