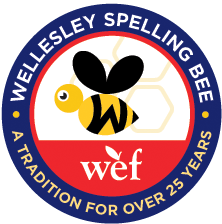 The summer heat may be continuing, but Wellesley Education Foundation (WEF) is looking forward to fall, and holding its 28th Annual Wellesley Spelling Bee — an adult spelling contest — on Thursday, November 2 at 7pm at the Sprague Elementary School gym.
Last year, 56 teams drawn from local businesses, community groups, PTOs, colleges and the Wellesley Public Schools took the stage to show their spelling prowess. Perhaps this is your year to shine? Get your three-person team together and enter by October 19. The cost for entry is $500.
The Bee is a key annual fundraiser for WEF, building the dollars needed to support innovation and enrichment in the Wellesley Public Schools. Donations of any amount are welcome. Sponsorship is a great way to showcase your business or individual support in our local community. You can become a sponsor starting at $125, or sponsor a team at $625.
To register, sponsor or donate, visit the WEF website at www.WellesleyEducationFoundation.org and look for the Spelling Bee under the "Events" tab. Online payment is available through PayPal, or mail a check payable to WEF with "Spelling Bee" noted to:  Wellesley Education Foundation, PO Box 812321, Wellesley MA 02482.
For more information, contact Bee@WellesleyEducationFoundation.org.
MORE:
For even more than you really want to know about Wellesley, Massachusetts, follow us on Facebook, Twitter, and Instagram.