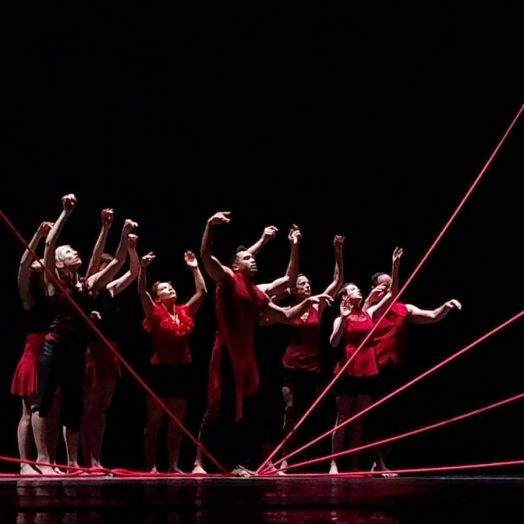 Acclaimed vertical dance company BANDALOOP will help Wellesley College celebrate the opening of Pendelton West, the college's new interdisciplinary arts building, in a series of performances. The group will perform at Wellesley College, Pendleton West, 106 Central Street, Wellesley, MA.:
Friday, Oct. 20, at 12:30, 2:30, 4:30pm
Saturday, Oct. 21, at 12:30, 2:30, 4:30pm 
Other events scheduled to celebrate the new building:
BANDALOOP Workshop/Conversation

Wednesday, Oct. 18, 7:30pm

, Babson College's Carling-Sorenson Theater

Architects, Steven Kieran and Michael Van Valkenburgh of the award-winning architectural firm, Kieran Timberlake – Panel discussion, Thursday, Oct. 18,  Pendleton West, 5:00pm

"The Storm of Creativity," a lecture by Kyna Leski – Thursday, Oct. 19, Pendleton West, 7:30pm

!hope Works by Augusta Read Thomas – Performed by Wellesley College Chamber Singers and Parker Quartet – Friday, Oct. 20,  Pendleton West, 1:00, 3:00, and 5:00pm

Wellesley College Theatre – Performs songs by Lin-Manuel Miranda from fall show, Working, Friday, Oct. 20, Pendleton West, 2:00pm
About the new Pendleton West:
Pendleton was named for Wellesley's first alumna president, Ellen Pendleton, class of 1886, who served as College president for 25 years. The building housed the sciences when it opened in 1934. The word "Chemistry," engraved over the main entrance, remains. The extensive overhaul of the building, begun in 2015, encompassed the renovation of existing space and the creation of an approximately 10,000-square-foot addition, accessible entries to the Academic Quad, and bridges and passages that connect Pendleton West to the Jewett Arts Center. The addition also features green roofs that will be visible from adjacent buildings.
New features include a music salon and large music hall, rehearsal spaces, art studios, and faculty and staff offices to accommodate the needs of traditional and emerging media programs, including printmaking, painting and drawing, paper making, woodworking and metal sculpture, photography, video, and digital arts.