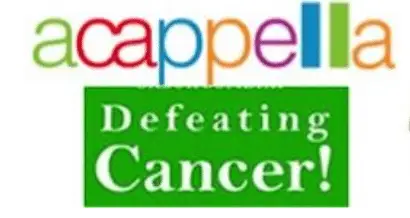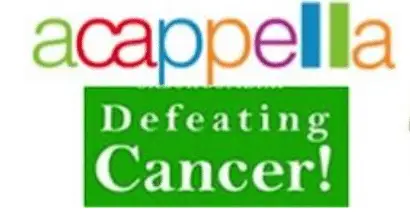 Benefit Concert:
A Cappella Defeating Cancer (ACDC)
Friday, November 3, 2017
Love music, but HATE cancer?
Join us on Friday, November 3 in Wellesley for an evening of a cappella singing at a benefit concert for The Wellesley Cancer Prevention Project.
What?    A Cappella Defeating Cancer (ACDC)
An a cappella benefit concert to raise awareness & money for  the Wellesley Cancer Prevention Project
When?    Friday, November 3  (7 to 9 PM, including an intermission)
Where?    Wellesley Hills Unitarian Church
309 Washington St., Wellesley Hills, MA 02481
Tickets:     Suggested contribution: $10/Adult, $5/Child under 13.
Cash or check at the door. Additional donations welcomed!
Why?        All profits from ticket & concession sales go directly to the WCCP.
The Cause?   
The Wellesley Cancer Prevention Project is a 501(3) nonprofit focused on raising awareness for MetroWest residents on how lifestyle, diet and the environment contribute to the incidence of cancer and other health risks. Celebrating its 20th anniversary in 2017, the WCPP is conducting public events & educational programs all year long (including yoga sessions, informational lectures, movie screenings, and the November concert).
More Info:    Patrick Rafter for The Wellesley Cancer Prevention Project & The Works
patrick@theworkssing.net or 617-901-2697                     
Who is performing at ACDC?
The ACDC concert will feature three of Boston's coolest a cappella groups:
Since 1994, The Works have performed for audiences ranging from a 3,000-person conference at Disney World to intimate private parties, schools, fundraisers, festivals, and corporate functions.  Member of the American A Cappella Alliance's Spring Sing, The Works deliver a fun combo of eclectic repertoire and witty repartee that's always sure to entertain!
None of the Above
Celebrating 10+ years of music-making, None of the Above (NOTA) is a mixed a cappella octet that performs a broad mix of pop tunes, jazz standards, folk, spirituals, and non-traditional music. A finalist on the inaugural season of WGBH's Sing that Thing! and the Boston Harmony Sweepstakes, NOTA has performed all across New England!
Founded in 2009, Tonehenge is made up of eight "mostly clean-shaven" businessmen from the greater Boston area. Tonehenge's uniquely cool rock-solid performances have ranged from a soaring national anthem at a Pawtucket Red Sox game, to opening for audience faves Ball in the House and the Hyannis Sound.