So, where the heck did Oakland Street go?
The 1.5-mile road, which runs between Washington Street and Hunnewell Street in Wellesley Hills, has at least temporarily been obliterated by Google Maps and replaced by Wellesley Avenue. The real Wellesley Avenue, which runs by Wellesley Country Club, remains on Google Maps, too.
Oakland Street resident Ann-Mara Lanza says as of last week when she types her Wellesley address into Google Maps she gets directed either to Oakland Circle in Wellesley or Oakland Street in Needham. Lanza still knows where she's going, but pizza shops don't ("Took over an hour and three phone calls before they'd believe me that the delivery guy was lost."). Her heating company, which was prepping her family's system for the winter, had issues finding the location. A substitute carpool driver wound up in Needham, too, she says.
Lanza reached out to MassBay Community College, which also resides at the road formerly known as Oakland Street, to see if it had noticed the problem. She figured this state school might have some sway with Google. Sure enough, a MassBay receptionist said that she has been fielding phone calls, though she had no idea how to fix the problem. Lanza left a message with the school's IT staff, too. (MassBay tells me they are trying to get ahold of someone at Google Maps to help.)
Lanza also hit up the town, as did I. Wellesley IT Director Brian DuPont says Wellesley's GIS office has submitted a change request to Google — something Lanza has been doing daily as well (Google Maps help page). I left an inquiry with Google's press relations team.
"[I'm] not sure why this happened, but I assume that Google made some major changes/upgrades to their mapping services in the last month or so," DuPont says. "The last time we submitted a request was when the Town created Municipal Way through the [Municipal Light Plant and Department of Public Works]  yards. It took a while (a month?), but eventually they made the change."
It probably can't hurt to have as many residents as possible submit the same request, DuPont adds.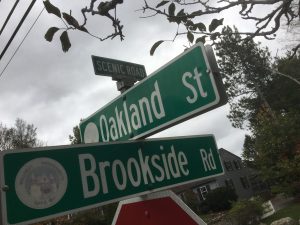 Lanza says she has little faith that Google will respond quickly. Though it's not a problem Google is unfamiliar with: A quick Google search brings up numerous complaints about this problem in other parts of the world, and gaps have also been cited with its StreetView tool for zooming in on actual homes.
"I assume that they don't care much about one road in one town.  What I really don't understand is how this happened in the first place," she says.  "I find it very interesting how this mistake impacts life today.  I'm wondering when I will stop getting packages delivered."
Lanza also alerted Wellesley Police to the issue, and she was relieved to hear that they know all the roads and do not use Google Maps.