It was Thanksgiving Day, and I had prepped by first stuffing the turkey and then stuffing the household clutter into bags. Next, I  stuffed those bags of stuff under the bed. Then the family came over and we all ate. And I was stuffed. It happens every year, and we all love it, especially since discovering the perfect antidote to this annual food bacchanalia. After we've polished off the pies, I collect any willing family members, we roll out the front door, and stroll/waddle over to the Massachusetts Horticultural Society's Festival of Trees.
Over 70 beautifully decorated Christmas trees in the Hunnewell Building are the main attraction, and if you're the gambling type, you can get 26 raffle tickets for $10 and place tickets in a collection slot located near each tree. If your number is drawn on the last day of the Festival, you win the tree you put your ticket in for, the decorations on it, and everything underneath it. The raffle takes place on the last day of the Festival, and you will be contacted if you're a winner. No one in my family has one yet, but maybe this is the year.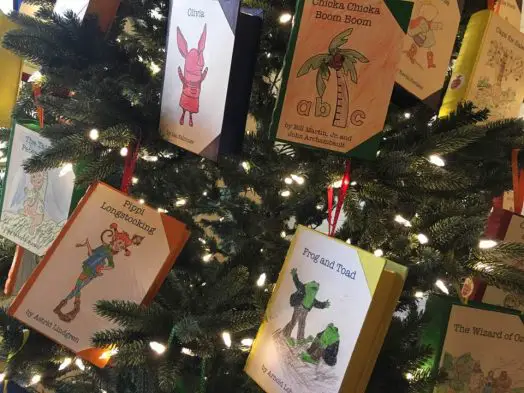 Don't forget to stop by the Education Building to see the Snow Village, an enchanted exhibit of holiday villages and trains. Its creator, Bill Meagher of Needham, continues to add more intricate figures to the display, where model trains wind through Dicken's Village; Fenway Park; Beacon Hill;  Downton Abbey; an amusement park with a Ferris Wheel and Spin Ride; Santa climbing the North Pole; and more.
Visitors can also warm up by the fire pit and enjoy the decorated buildings and grounds at Elm Bank with a stroll or a horse- drawn wagon ride. For the young at heart, there are visits from Santa and fun activities in the Parkman room. Mass Hort has upped it's lights game this year, and the grounds look even more festive than usual. Kudos to Festival of Trees Chair Gretel Anspach, her committee members Penni Jenkins and Holly Perry, and the Mass Hort staff and volunteers.
Admission to the Festival is $10 for adults, and kids 11 and under are free. The Festival of Trees runs through December 10 at Mass Hort's Elm Bank property, 900 Washington Street, Wellesley, MA 02482.
Here are a few fun pictures from my visit to the event.