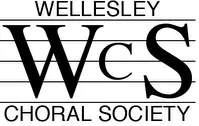 Wellesley Choral Society
opens its 70th Anniversary Season with a concert titled 
A Celebration of the Decades
 at
2 p.m., Nov. 12 
at the Unitarian Universalist Society of Wellesley Hills (309 Washington St.).
All the works on the program have been sung by the chorus at some point during its long history. The opening piece, the J. S. Bach chorale, Now Let Heaven and Earth Adore Thee, was first performed by the chorus on May 12, 1948.
Each decade is represented by several pieces.  A high point promises to be the singing of Ave Verum Corpus by W. A. Mozart, when the chorus will be joined by former members.
Accompaniment is by a professional string quartet, piano, and, for one piece, guitar.
A reception follows the concert.
The church is handicapped accessible and there is ample free parking in the church lot and on the street. Tickets may be purchased at the door: $20 general admission, $15 students and seniors, children under 12 free.
This concert is supported in part by a grant from the Wellesley Cultural Council and the Fund for Wellesley.