Here's a rundown of assorted end-of-year holiday activities taking place in Wellesley. The upcoming weekend is especially busy as Wellesley welcomes December.
Boy Scout Trees and Greenery sale, Route 9
Saint John School Trees & Trimmings sale

Festival of Trees, Mass Hort
Massachusetts Horticultural Society's 9th annual Festival of Trees will take place through Sunday, December 10, at Mass Hort's Elm Bank property, 900 Washington Street, Wellesley. The festival will showcase over 70 trees and feature Snow Village, an extensive model train and holiday village collection. The Festival of Trees, in the Hunnewell Building, offers beautifully decorated holiday trees that are donated and decorated by local businesses, garden clubs, and individuals. Visitors "vote" with their raffle tickets in hopes of being the tree winner at the end of the Festival. Visitors can enjoy the decorated buildings and grounds at Elm Bank with a stroll or a horse- drawn wagon ride. For the young at heart, there are visits from Santa and fun activities in the Parkman room.
Crafts sale at Wellesley Village Church
A beautiful assortment of crafts will be sold at the Village Church (2 Central Street) on Saturday, December 2, 10am – 4pm; and Sunday, December 3, starting at 11am. A van load full of crafts will arrive at the church from H.O.M.E. (Homeworkers Organized for More Employment) in Orland, Maine and will provide a wonderful selection of gifts for all ages and price ranges.
H.O.M.E. was founded in 1970 as a crafting co-op to enhance the quality of life for low income and homeless families and serves one of the poorest areas in northern Maine. The program has grown over the years to assist with food, jobs, shelter, low income housing, education, and self sufficiency. H.O.M.E sells crafts in their own shop on campus as well as at craft fairs in MA and CT during the holiday season. Their on-campus facilities are dedicated to weaving, ceramics, leather work, stained glass and stitchery, and crafters and artists in the local community can use space on H.O.M.E.'s campus.
To facilitate parents being able to work, H.O.M.E. runs a licensed day care center. Their food pantry offers community access to food throughout the year which comes from their organic gardens and green houses, and they also offer hot lunches Monday through Friday. The income from the sales totally goes back to the individual crafters. You will find a wonderful selection of pottery, hand knit hats, mittens, socks and sweaters, beautiful quilts, stuffed animals, wooden toys, jewelry, and a large selection of jams, jellies, and maple products, to name just a few of the items. Hand made wreaths will also be for sale.
Wellesley Square Holiday Stroll and Art Walk
December 3, noon – 6pm
Free parking. Great deals. Lots of family-friendly fun. More info here.
Carillon Holiday Open Tower, Wellesley College
Christmas Vespers, Wellesley College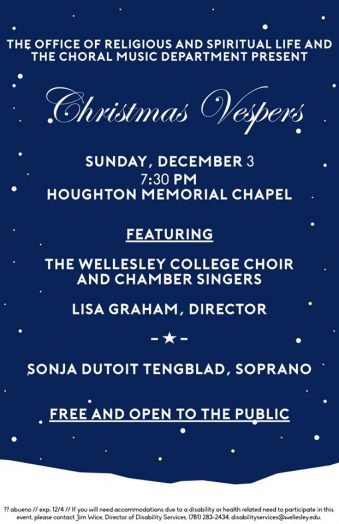 Wellesley Theater Project presents A Christmas Carol
This Wellesley Theatre Project adaption of Charles Dickens, A Christmas Carol is the story of a bitter old miser named Ebenezer Scrooge and his transformation into a gentler, kinder man after visitations by various ghosts. Join us for this uplifting holiday story of redemption, magic, and hope. This is an audition-based production features a limited number of students.
Performances:
Friday December 8th at 7pm
Saturday, December 9th at 2pm and 7pm
Sunday, December 10th at 2pm
Satuerday December 16th at 2pm & 7pm
Sunday December 17th at 2pm
Location:
Babson Hall at The Wellesley Community Center
219 Washington St. Wellesley, MA 02481
Tickets:
In Advance:
$15 Adults
$10 Students & Seniors
At The Door:
$18 Adults
$12 Students & Seniors
Purchase tickets online HERE or by calling 781-235-1550. Please note all sales are final and we are unable to issue refunds or exchanges for tickets purchased.
Linden Square, dine with Santa Claus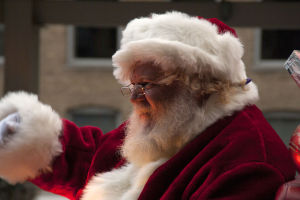 Saturday, December 9
Breakfast with Santa at The Cottage with Wellesley Bank (https://www.cottagewellesley.com)
Lunch with Santa at The Linden Store (http://lindenstore.com/)
Luminary Night — Sunday, Dec. 10
The 11th annual Wellesley Hills Junior Women's Club's (WHJWC) 11th Annual Luminary Night will take place on Sunday, December 10. On Luminary Night, families and businesses throughout Wellesley light luminary candles along their streets, sidewalks and doorsteps, creating a beautiful town-wide display that welcomes the holiday season.
Luminary kits can be purchased online or at the Roche Brothers Customer Service Desk; the Wellesley Holiday Boutique;  or Wellesley Dental Group. December 5 – 10 kits will be for sale outside Roche Bros. at the WHJWC table.
Luminary kits are $20 each and include materials to create ten luminaries.  Kits ordered on-line will be delivered to your home by a member of the Wellesley Hills Junior Women's Club.
Here's more information about how you can help set the town aglow on Luminary Night.
Religious services
*Visit our Where to Worship page for links to houses of worship, so you can get details on services of interest.