Saturday, December 9 — See Santa
Breakfast with Santa at The Cottage, Linden Square (https://www.cottagewellesley.com)
Lunch with Santa at The Linden Store (http://lindenstore.com/)
Saturday, December 9 — Christmas Concert at Wellesley Village Church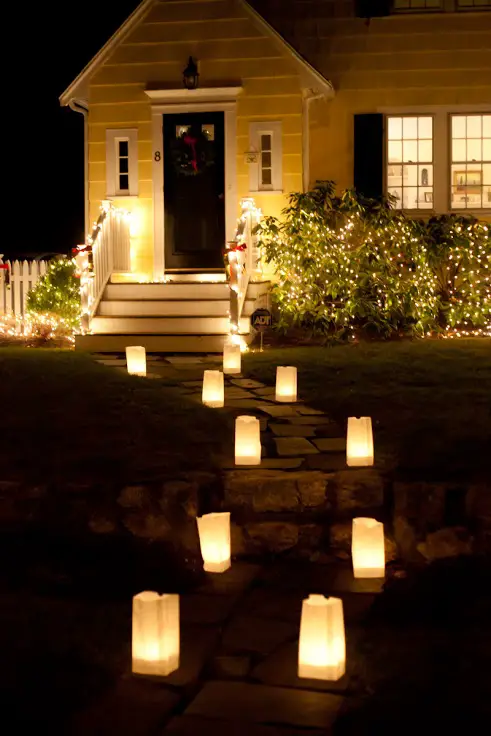 Sunday, December 10 — Luminary Night
The 11th annual Wellesley Hills Junior Women's Club's (WHJWC) 11th Annual Luminary Night will take place on Sunday, December 10. On Luminary Night, families and businesses throughout Wellesley light luminary candles along their streets, sidewalks and doorsteps, creating a beautiful town-wide display that welcomes the holiday season.
Luminary kits can be purchased online or at the Roche Brothers Customer Service Desk; the Wellesley Holiday Boutique;  or Wellesley Dental Group. December 5 – 10 kits will be for sale outside Roche Bros. at the WHJWC table.
Luminary kits are $20 each and include materials to create ten luminaries.  Kits ordered on-line will be delivered to your home by a member of the Wellesley Hills Junior Women's Club.
Here's more information about how you can help set the town aglow on Luminary Night.
Sunday, December 10 — Alternative Gifts Fair
St. Andrew's Episcopal Church
11:30am – 12:30pm
Through Sunday, December 10 — Festival of Trees
Massachusetts Horticultural Society's 9th annual Festival of Trees will take place through Sunday, December 10, at Mass Hort's Elm Bank property, 900 Washington Street, Wellesley. The festival will showcase over 70 trees and feature Snow Village, an extensive model train and holiday village collection.
December 11 — Create a Gingerbread House
Join us at the Wellesley Free Library to create your own festive Gingerbread House. Using graham crackers and royal icing, make an individual gingerbread house then decorate it to your heart's content.
Three sessions are being offered; please sign up for ONLY ONE of the sessions which will run from 3:30-4:30, 5:00-6:00, and 6:30-7:30. Space is limited, so only children who will be making a gingerbread house should be signed up. This program is best for children ages 4-14 years old. Sign up online.
Please note that gingerbread materials are not guaranteed to be allergy safe. Please email
[email protected]
if you need accommodation. Sponsored by the Friends of the Wellesley Free Libraries.
The library has other fun holiday activities such as making light-up holiday cards (Dec. 8, 3:30pm); Craft and gift making at the Hills Library (Dec. 13, 2pm); and Sankta Lucia story ad craft at the main library (Dec. 13, 4pm).
Check out their website
for more info.
December 14 — Sprague School cookie walk

The Ultimate Cookie Sale
3pm – 5pm
Sprague Gym
December 17 — Wellesley Symphony Orchestra, Christmas is for Kids
Holiday concert, a visit from Santa and young performers including the winner of the "Two Front Teeth" contest.
Get tickets for the December concert here
Through December 17 — A Christmas Carol
This Wellesley Theatre Project adaption of Charles Dickens, A Christmas Carol is the story of a bitter old miser named Ebenezer Scrooge and his transformation into a gentler, kinder man after visitations by various ghosts. Join us for this uplifting holiday story of redemption, magic, and hope. This is an audition-based production features a limited number of students.
Performances:
Friday December 8th at 7pm
Saturday, December 9th at 2pm and 7pm
Sunday, December 10th at 2pm
Satuerday December 16th at 2pm & 7pm
Sunday December 17th at 2pm
Location:
Babson Hall at The Wellesley Community Center
219 Washington St. Wellesley, MA 02481
Purchase tickets online HERE or by calling 781-235-1550
December 17 — LEGO Winter Village display
1:00 PM to 5:00 PM (on display through December 22)
The LEGO Winter Village created by Nick Tatar returns to the Wellesley Free Library from December 17 through December 22. Come see Santa's workshop, the Sprague Clock Tower, and exciting winter scenes all made of LEGO. This remarkable festive display will delight families with children of all ages.
December 18 — Winter Wonderland House Decorating contest deadline
Deadline to nominate a house for the Wellesley Recreation Department's annual Winter Wonderland house decorating contest. Here's how:
1. Email a picture of the house to Wellesley Recreation
2. Include the address of the decorated house in your email (If the house has light be sure to take a photo in the dark)
3. Nominations must be received by December 18. Awards will be delivered on .Wednesday, December 20th
Categories:
The Griswold Award (Funniest House)
Judge's Choice
Traditional New England Theme
Religious services
*Visit our Where to Worship page for links to houses of worship, so you can get details on services of interest.