Chanukah happenings at Temple Beth Elohim and Wellesley Weston Chabad
At Temple Beth Elohim you can join in and "…retell the stories. Sing the songs. Share the light. Spin a dreidel." Full details here.
Here's a link to Chanukah events sponsored by Wellesley Weston Chabad.
December 14 — Sprague's Annual Cookie Walk — The Ultimate Cookie Sale
Regular Shopping 3pm – 4:30pm ($3/bag)
Sprague Gym
It's more than just cookies. Also featuring…Raffle, Face Painting, Holiday Plant Sale, Spirit Shop, Magic Show.
Also, Sprague is collecting new or gently used coats for kids and adults. They will be cleaned by Anton's cleaners and delivered to those who need a warm coat this winter and beyond, so please bring in your still-serviceable coats for this worthy cause.
 December 17 — Wellesley Symphony Orchestra, Christmas is for Kids
The concert features new and returning young singers, including 6-year-old Leah Mullen, the winner of the Two Front Teeth contest. Maestro Max Hobart will lead the orchestra and singers in holiday favorites both old and new, including Tchaikovsky's Waltz of the Flowers from the Nutcracker, Christmas at the Movies, Feliz Navidad, and Christmas in Killarney.
The audience can join a singalong, and kids will be able to join Santa onstage to sing Christmas songs. Dr. David Podell, the President of MassBay Community College, will read "Yes, Virginia, there is a Santa Claus," and soprano Leslie Holmes will sing "I'll Be Home for Christmas."
The concert is at MassBay Community College, 50 Oakland Street, Wellesley, at 3 PM. Tickets cost $25 for adults, $20 for seniors and students, and are free for children under 12. Tickets may be purchased at Wellesley Books, Walgreens on Washington Street, Andrews Pharmacy on Weston Road, on-line, and at the door. There is plenty of free parking at the college. Call 781-235-0515 or visit www.wellesleysymphony.org.
Through December 17 — A Christmas Carol
This Wellesley Theatre Project adaption of Charles Dickens, A Christmas Carol is the story of a bitter old miser named Ebenezer Scrooge and his transformation into a gentler, kinder man after visitations by various ghosts. Join us for this uplifting holiday story of redemption, magic, and hope. This is an audition-based production features a limited number of students.
Performances:
Saturday December 16th at 2pm & 7pm
Sunday December 17th at 2pm
Location:
Babson Hall at The Wellesley Community Center
219 Washington St. Wellesley, MA 02481
Purchase tickets online HERE or by calling 781-235-1550
December 17 — LEGO Winter Village display
1:00 PM to 5:00 PM (on display through December 22)
The LEGO Winter Village created by Nick Tatar returns to the Wellesley Free Library from December 17 through December 22. Come see Santa's workshop, the Sprague Clock Tower, and exciting winter scenes all made of LEGO. This remarkable festive display will delight families with children of all ages.
December 18 — Winter Wonderland House Decorating contest deadline
Deadline to nominate a house for the Wellesley Recreation Department's annual Winter Wonderland house decorating contest. Here's how:
1. Email a picture of the house to Wellesley Recreation to recreation@wellesleyma.gov
2. Include the address of the decorated house in your email (If the house has light be sure to take a photo in the dark)
3. Nominations must be received by December 18. Awards will be delivered on .Wednesday, December 20th
Categories:
The Griswold Award (Funniest House)
Judge's Choice
Traditional New England Theme
 Monday, December 18 — Sounds worth it for the lattke bar alone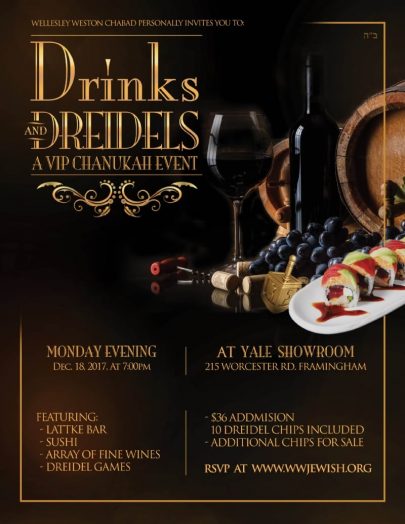 Religious services
*Visit our Where to Worship page for links to houses of worship, so you can get details on services of interest.