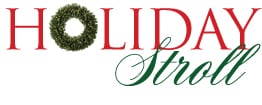 SPONSORED POST: The Wellesley Square Merchants' Association is getting ready for the always festive Holiday Stroll on Sunday, December 3, noon – six. On the big day carolers will roam Wellesley Square, as will Frosty and Rudolf — they're always up for a photo op. And of course, Santa will be there in all his jolly glory. You can bet he'd never miss the Holiday Stroll and the chance to hear the holiday wishes of all the children.
SHOPPING: The Holiday Stroll makes it easy for shoppers also get in the spirit of the season as they seek out the big savings at over 60 stores and play to win the Scavenger Hunt by visiting participating stores with the snowflakes in the window. Each of the three Scavenger Hunt gift certificate value equals $850, so happy hunting, indeed. Dozens of stores are participating in the Scavenger Hunt. Just to name a few…London Harness; Page Waterman Fine Framing; Wellesley Holiday Boutique; Wellesley Toy Shop; and Anderson's Jewelers.
PARKING: All this and free 2-hour parking for the entire month of December, courtesy of the Town of Wellesley.
ART WALK: As usual, art will be a big part of the festivities. This year 13 members of the Wellesley Women Artisans and 43 middle and high school students are participating in the Art Stroll, displaying their work in ceramics, colored pencil, oil paint, watercolor, digital photography, mixed media, metal arts. drawing, and painting. Look for Wellesley High School Metal Arts and Ceramics class students at Vision Optics; Chelsea Sebastian's paintings at Coldwell Banker; Elizabeth Cohen's ceramics at Florijn Home; and more.
Here's the schedule:
For more information, go to ShopWellesleySquare.
Here's a map that will direct you to all the free parking.
Here's information about how to get a Sponsored Post on The Swellesley Report for your business, group, event, etc.