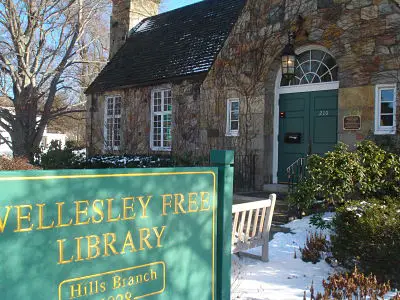 The suburbs often get a bad rap for being outposts of unsustainability, but there's good news: it is possible to practice sustainable living, even if you happen to live in the 'burbs.  The 2018 Hills Hearthside Lecture Series, sponsored by the Friends of the Wellesley Free Libraries, will explore four ways that suburban dwellers can transform their household as well as make their community a better place.
The Importance of Eating Locally and Seasonally

Thursday, January 18, 6:30pm at Hills Branch Library, 210 Washington St. 
Wellesley Farmers' Market partner and Farmers To You's founder Greg Georgaklis will speak about the importance of eating locally and seasonally from a health, environmental, and economic perspective.
Upcoming topics in the series:
Reducing Food Waste is Easy and Important
Thursday, February 15, 6:30pm at Hills Branch Library, 210 Washington St.
Hear from Jeff Azano-Brown, Superintendent of the Recycling and Disposal Facility in Wellesley, about the new food waste drop-off pilot program at the RDF.  Wellesley's 3R (Reduce Reuse Recycle) Working Group has initiated this project to rescue surplus food and reduce the amount of organic waste going to landfills.
The Swellesley Report's own Deborah Brown will also be on hand to give a resident's perspective of participating in the food waste drop-off pilot program. She will tell all about her family's spent egg shells; the aesthetics of the food-waste bin and how she feels about keeping one more thing on the kitchen counter; the true story about the ick factor; and unwanted, smug greener-than-thou feelings that have surfaced.
Grow Your Own!
Thursday, March 15, 6:30pm at Hills Branch Library, 210 Washington St.
Meet John Spencer, long time Wellesley resident and coordinator of the Wellesley Farmers' Market. At the Weston Road Community Gardens in Wellesley, John grows everything from artichokes, which he starts in his basement in the winter, to hops for brewing his own beer. Come to learn more about the gardens and how all can start growing locally. John will also touch on the broader efforts in Wellesley to develop a true local and sustainable food web.
Backyard Chicken Coop
Thursday, April 19, 6:30pm at Hills Branch Library, 210 Washington St.
The surging interest in local and organic foods has contributed to the trend of chicken coops in suburban backyards. Hens are mostly friendly and easy to care for, they can be surprisingly beautiful —  and what other pet actually produces breakfast? If you're ready to learn about bringing some farm yard into your backyard, come hear Kristin Taft share her experience and tips for successfully keeping laying hens.