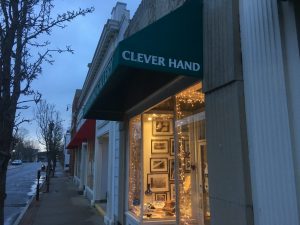 The Clever Hand Gallery will showcase work by Wellesley High School's Intensive Metals and Intensive Ceramics students starting Sunday, March 25. This is the eighth year of collaboration between the local artisans' cooperative and the talented artists. The shop is owned and operated by the cooperative's members and has been a fixture in Wellesley Square since 1973.
To prepare for the exhibit, teachers Shayla Vines and Amie Larson had the students research professional-level jewelers, smiths, and sculptural artists who work with metals. After their research, students created a work based on their inspirational findings. The Metals Department recently received funds to purchase and add Casting to the curriculum.  The Metals Intensive students were the first to break in the equipment and learn about the ancient tradition of Lost Wax Casting.
Sculptures, jewelry, and other student creations will be on display, and some will be for sale, March 25 – April 7. You can meet the WHS artists and their teachers at the store at a reception on April 3, 2pm -5pm. And of course, The Clever Hand's regular artists' work will be displayed in the store and for sale as usual.