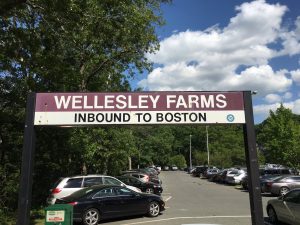 The upcoming temporary MBTA Worcester line commuter rail schedule changes we reported about early last year will become a reality on May 26, according to a Massachusetts Department of Transportation press release. On that date, the MBTA will replace the weekend Worcester line service with free buses for 11 weekends, which will take the temporary changes through August 5.
The MBTA is making the late-spring through mid-summer change in order to satisfy a federally mandated requirement to install Positive Train Control (PTC) infrastructure.  PTC is a safety control system designed to reduce train speeds as needed and prevent train-on-train collisions.
The project will be completed in two phases, and it's the second phase that will most affect Wellesley residents.
Phase 1: May 26 to June 17 free bus service will replace the trains between Worcester and Framingham stations.
Phase 2: June 23 – August 5 free bus service will replace the trains between Framingham and Wellesley Farms. This free bus also will connect to the Green Line at Riverside Station. During this Phase there will be no weekend trains between Framingham and South Station.
The timing of the buses are expected to be similar to the train schedule. Calculate your fare here.