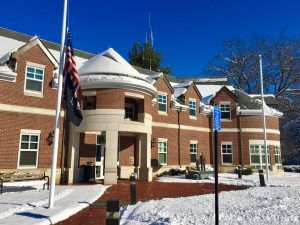 The Wellesley Police Department will be holding an open entrance exam for the position of Wellesley Police Officer on June 23, 2018.  Results of the exam will be in effect for a two year period after the test is given.  The exam will be hosted and managed by Public Safety LLC and will be held at Wellesley High School, 50 Rice Street, Wellesley.  You must pre-register for the exam prior to June 15, 2018.
The Wellesley Police Department is a progressive law enforcement agency looking to hire qualified men and women for the position of police officer. The department enjoys an outstanding relationship with its community and the men and women of the department take pride to keep Wellesley one of the most sought after communities to live in. Wellesley is located just 13 miles from Boston, is comprised of 27,000 residents, 3 colleges and more on 10.2 square miles. Community safety has been the mission of the Wellesley Police Department since 1893. To accomplish that mission, we must continue to attract the brightest, most qualified and most capable candidates to our ranks. The Wellesley Police Department has competitive pay, educational incentives for college degrees and opportunities for advancement within the department.  Officers work a five day on, three day off 8.5 hour day schedule.
Questions about the exam may be directed to Lieutenant Marie Cleary at 781-235-1212 or by email at [email protected].