Alexander Golob, a local Wellesley artist and recent Wellesley Middle School artist-in-residence, has installed his new mural, The Joy of Entering the Forest, at Federal Realty's Linden Square courtyard near Sweetgreens.
The over 200 square-foot adhesive vinyl mural takes inspiration from plants found around Lake Waban and from 19th century United States folk art. The artwork creates lush three-dimensional views of plants such as rhododendron and pine punctuated by moments of flat and punchy Americana-inspired nature and patterns. Golob says, "The work is meant to explore the mysteries of beauty, morality, nature, and how stories and myths help us to grapple with these concepts."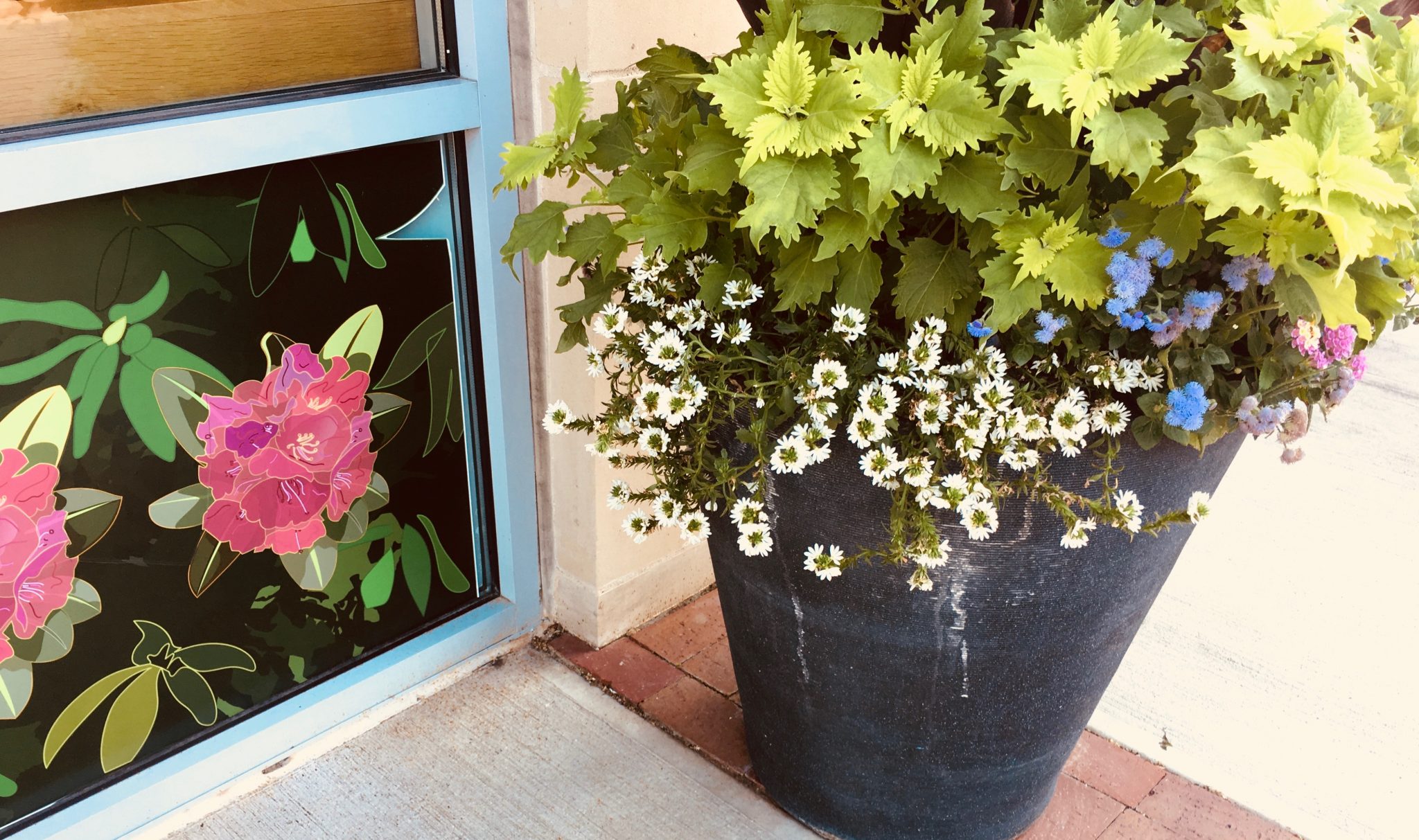 It's all part of Federal Realty's push to create a more green look in the Linden Square area. Last year visitors to the Wellesley shopping and dining area watched as the first lettuces and vegetables from the raised beds that local Boy Scouts built grew to maturity. The garden, tended by participants in the Needham Charles River Center's horticultural program, is still growing strong, and the farmers are back to work the garden and deliver the harvest to the Wellesley Food Pantry. The Pantry serves about 200 Wellesley households made up of more that 420 individuals, including about 280 children and seniors.
Golob was born in 1994 in Cambridge, Massachusetts into a bilingual, Italian and Jewish-American household. He has studied art in both Boston and Venice, Italy. It is his mission to create engaging art that expands beyond the walls of a gallery to provoke thought in the public, lifts its viewers, and transforms physical space. He is a co-founder of the non-profit, Wellesley Parents Supporting Art Students, to which he has been a board member for six years. His studio, Golob Art, creates and consults for public art and placemaking for clients ranging from small nonprofits to large universities and from growing cities to major developers. The studio also has a 2,500 square foot art gallery, Post-Cubicle Gallery, in Boston's Kenmore Square.