Part of a weekly series of posts profiling places of worship in Wellesley, MA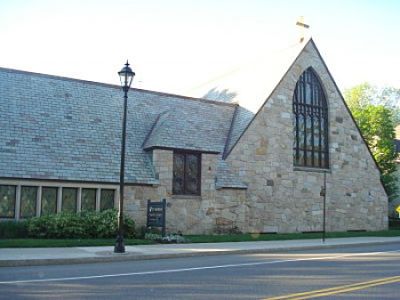 St. Andrew's, located just off of Washington St. (79 Denton Rd.), is part of an abundant community of 180 such parishes in the Massachusetts area. An Episcopal parish, its roots stem from the Anglican Church, although the Episcopalian Church prides itself on being more socially progressive than its more orthodox English cousins. The Episcopal Church is known for supporting LGBT rights and ordaining women.
St. Andrew's is led by Reverend Adrian Robbins-Cole, who took over as rector in 2013. The church has a variety of programs for children and youth, and engages with the Wellesley College community as well, inviting students to be active in several of their ministries.
St Andrew's Summer Services:
Every Sunday:
8:00 AM — Holy Eucharist
10:00 AM —  Holy Eucharist
Midweek Services:
Wednesday, 7:30 PM: Holy Eucharist and Healing
Monday-Friday, 8:45 AM: Silent Contemplative Prayer
MORE: Wellesley church gets furry and fluffy with blessing of animals