If you're looking to get your family out for a summer bike ride that practically guarantees success, give the Washington Secondary Bike Path in Rhode Island a try. The section I recommend is an approximately 11-mile, one-way ride on a nicely paved part of what locals call the West Bay trail. About a 90-minute drive from Wellesley Square, the rail-trail, Rhode Island's longest, follows the former Hartford, Providence and Fishkill Railroad. This ride is good for kids eight years old and up, I'd conservatively say.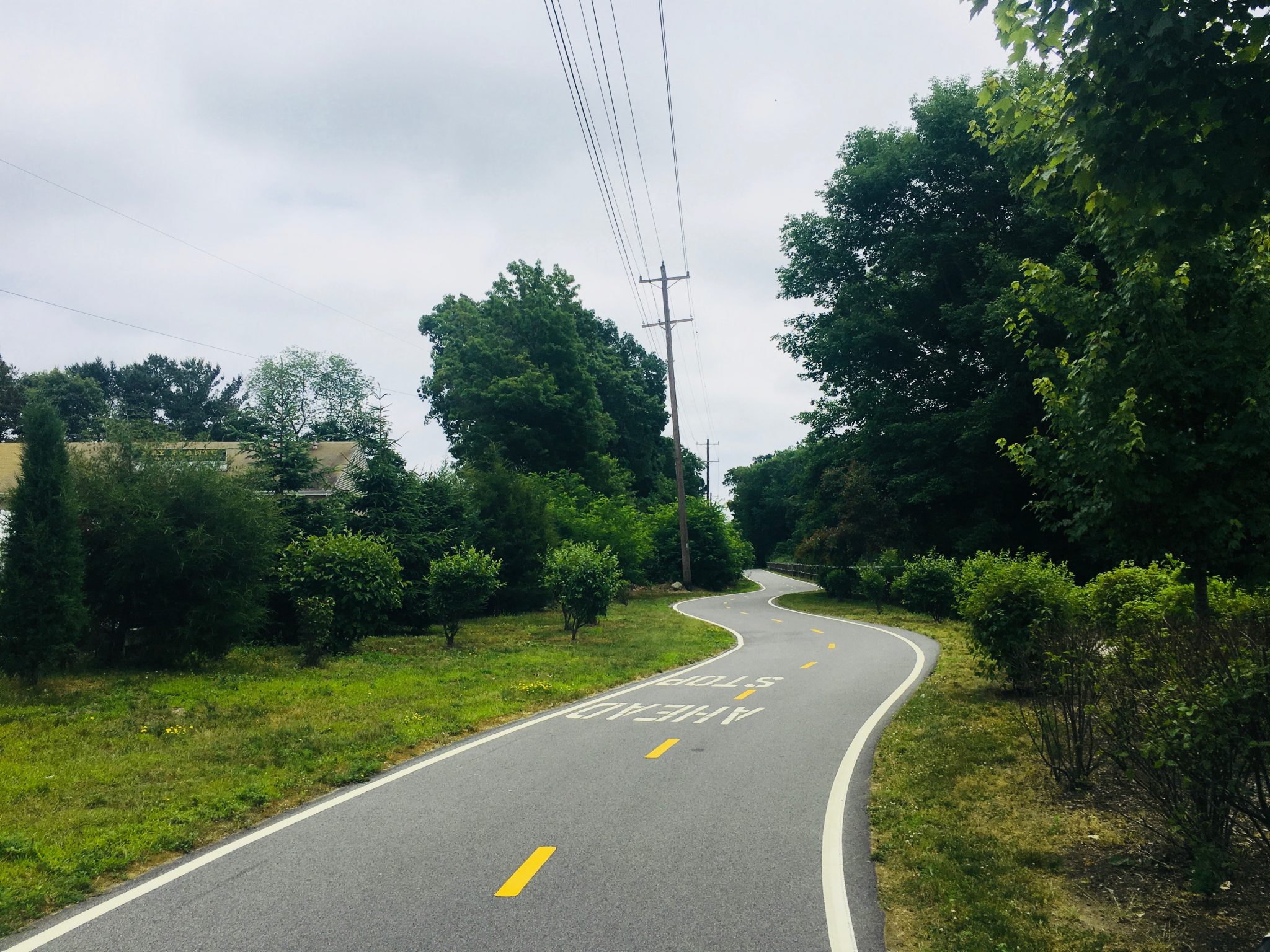 My advice is to start at the west end of the trail at The Summit General Store (for your GPS, plug in 25 Old Summit Road, Greene, Rhode Island 02827). The store offers sandwiches, snacks and drinks, but unfortunately there are no public restrooms. According to an employee the local Health Department shut that down a while back. He didn't know why, and his job working the register and the post-office counter section of the store didn't exactly leave him time to chat about it.
The bike trail parking lot across from the store holds about 10 vehicles. You'll notice that the trail abruptly ends at a wall of trees and underbrush, and to the right is an undeveloped trail. If you explored in that direction, in five miles you'd find yourself at the  Connecticut border, where a connection to the Moosup Valley State Park Trail awaits. Plenty of adventure-seekers ride that rough-and-tumble gravel/dirt/sand trail in its currently unimproved state. For now, however, it's mostly a well-kept secret used by ATV lovers who will mourn the wild nature of that section once it's tamed. Trails advocates hope that it will eventually be paved as part of a bike path that will run from Maine to Florida.
But never mind the wilds of Connecticut. There's enough to keep you happy in Rhode Island as you head east on the trail going toward Warwick. Starting here allows you to take advantage of the slight downhill slope and enjoy the pretty, rural feel to this part of the trail. That mostly downhill part is key. I'm trying to set your family up for biking success here, people. We don't want any young ones declaring "I don't like biking" as they sweat and struggle along on a bike that might be a 5-year old hand-me-down with stripped gears. I'm not judging you about that, and neither will this trail that forgives such make-do equipment. This is the kind of ride that will have kids puffed up with pride about the long distance they just covered with ease.
There are no huge hills to cause worry as your kids pedal along ahead of you, but know that there are several street-crossing points, mostly across quiet, secondary roads. These crossings provide a convenient way to step off the trail and grab a bite to eat or hit a restroom, because except for the general store I didn't see any amenities on the trail itself. Not even a lemonade stand.
The trail is paved and well maintained with no sudden branches to dodge or high-grass tick farms to coast through. It's nicely shaded and you'll cross the winding Pawtuxet River a couple of times on your ride. Stop off on the beautiful bridges and take in the views. There are also views of Flat River Reservoir, a recreational hot spot for fishing and boating. You'll also pass through woods and swamp lands and see occasional homes, recreation areas, and a campground.
As for the people, we saw everyone from those spandex-clad speed-demon types to many families with kids of all ages, runners, dog walkers and parents pushing their kids in strollers.
All this activity gave the trail a safe feel to it, but at no time was it a crowded ride. At the starting-point lot we talked to a few Rhode Island State Park Rangers who were patrolling the trail that day. They said it's known as family-friendly, particularly at the end I've sent you to. As you go further east into downtown Warwick, which is beyond the limits of this recommended ride, the trail becomes more urban, and some reviews I read said it felt not as safe.
The end point I recommend is at  the large trail parking lot adjacent to Horgan Elementary School in West Warwick. You'll know it's coming when the landscape starts to look less rural. You'll see some beautiful old factories, some signs of life being lived, and a little graffiti in spots. Keep a lookout on the right for the large trail parking lot and the adjacent lot with all the school buses, and the school itself. Be sure to take a moment to check out the bright red New York, New Haven and Hartford Railroad caboose on display at school complex. Although it's fairly close to the the path, the sight lines are such that it can be easy to miss.
Since this route as I recommend it is a one-way ride, you'll need to arrange a car at the end to bring you all back to the starting point. Either that or lock up your bikes at the end point, call an uber to take you back to the start where your car is, and then drive down to pick up your bikes.
Below is a map and parking and trail access information.
Parking and Trail Access
If you're looking to ride the trail the way I've laid out this trip, by starting at the west end of the trail across from the Summit General Store (for your GPS, plug in 25 Old Summit Road, Greene, Rhode Island 02827), take I-95 S from Providence to Exit 10B for RI 117 W. Take RI 117 westbound 2.6 miles, then turn right onto Main St. and make an immediate left onto Warwick Ave. to remain on RI 117. In 0.6 mile turn left onto Washington St./RI 117, and continue 9.9 miles to Old Summit Road, on which you'll turn left. The road becomes Log Bridge Road, and in 0.2 mile, you'll see the trail.
If you want to make this a round-trip ride, start at Horgan Elementary School. That will give you an uphill grade on the first part of your trip and a downhill grade on the way back. To start in West Warwick at the parking lot adjacent to Horgan Elementary School, from Providence, take I-95 S to Exit 12B for RI 113 W in Warwick (about 9 miles from the downtown area). Go 0.6 mile on RI 113 W, and turn left onto Bald Hill Road. In 0.7 mile, turn right onto Toll Gate Road. After 0.5 mile, veer left onto Providence St. In 0.8 mile, turn right onto Hay St. (You'll see the red caboose from the intersection and will be turning toward it.) Take an immediate left onto Junior St. and look for the entrance to the trail parking lot on your right. (The school will be on the opposite side of the street.)