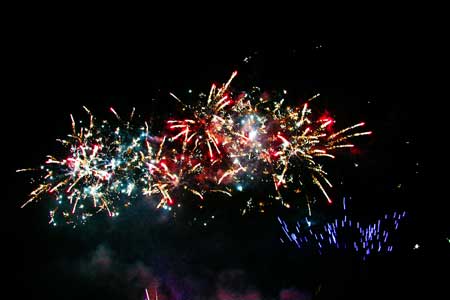 Here's what's closed in Wellesley on our nation's 242nd anniversary of the Declaration of Independence:
Parking meters in Wellesley will be free.
Wellesley's RDF will be closed.
Wellesley town offices will be closed.
Wellesley Free Library will be closed for the 4th, and closed on Sundays for summer hours through August 25.
Memorial Day is a federal holiday, so Post Offices will be closed on the 4th, and there will be no home delivery of mail. It is also an official holiday for UPS, but scheduled UPS Critical Express and UPS Holiday packages should still arrive.
In general, the mean streets of Wellesley are pretty quiet on and around the 4th, so if you're looking for excitement I recommend you head over to Natick's parade. The parade starts on July 4 at 9am at Wilson Middle School (22 Rutledge Rd.) and travels down Route 27 to the Natick Common and concludes right after St. Patrick's Church.
We've enjoyed the parade a few times over the years. We like to bring our chairs and set them up toward the end of the route, just across the street from St. Patrick's Church. That way we get a good look at all the fun while watching the parade as geographically close to Wellesley as possible, so we don't suffer separation anxiety from our town.
Where to find fireworks displays
July 3, 9:30pm, Needham High School parking lot, 609 Webster St. They've also got a whole lotta fun going on all day long.
July 3, 9:30pm, Walpole at Joe Morgan Memorial Field, 22o School St.
July 4, 9pm, Newton at the Albemarle Field/Halloran Sports Complex.
Here's a list of every (legal) fireworks display in the state (make sure you scroll down to the second page), so whether you're on the Cape or in the Berkshires, The Swellesley Report has the information you need. Aren't you glad you checked in with us?
And not that we're trying to rush the summer along or anything, but registration for the 2018 Wellesley Turkey Trot is now open. The race sold out in early November last year; sign up early to guarantee your entry.