Which town truly can claim Katharine Lee Bates, best know for her poem-turned-patriotic-song, America the Beautiful? — Falmouth or Wellesley? Falmouth was her birthplace, but Wellesley educated her. She graduated from Wellesley High School in 1874, and from Wellesley College in 1880. Bates taught at Dana Hall school until 1886 and then at Wellesley College until 1925. She lived in Wellesley at 70 Curve Street until her death in 1929. And Bates Elementary School in Wellesley is named for her.
Just when you think Wellesley is comfortably in the lead, Falmouth swoops in, gives her an 11-mile paved and level bike path, and names it Shining Sea Bikeway, a reference to the well-known ending phrase of the first of America the Beautiful's three verses. Clearly, the two towns fiercely vie to call this New England teacher, writer, and poet their own. Bikeway or not, I'm unwilling to concede to Falmouth. But I had heard about the beauty of this trail and decided to sneak across the Wellesley border and enjoy its Cape Cod charms.
My companions and I started out at the Depot Road trailhead in Falmouth, about a 90-minute drive from Wellesley Square. There's a free parking area there for about 80 cars, and you can't miss the trailhead right across the street from the lot. The trail goes through a wooded area, and as you bike through an underpass, look for the bike-themed mosaics created by the AmeriCorps Cape Cod program. Another nice feature along the trail are the granite posts that count down the miles. Look down if you need even more encouragement as you ride along. Embedded in the trail itself are granite markers that count down the tenths of miles, a nice way for kids to track their progress.
A couple of miles in, look for the cranberry bog as you go over the wooden bridge. Then, after about four miles you'll see the Great Sippewissett Marsh on either side of the trail. At 8.5 miles along, you'll get stunning vistas of the Atlantic Ocean to the left as you pass by Surf Drive Beach. Go ahead and stop here for lunch or go for a swim. With the exception of a well-marked private beach area, the beach is open to all.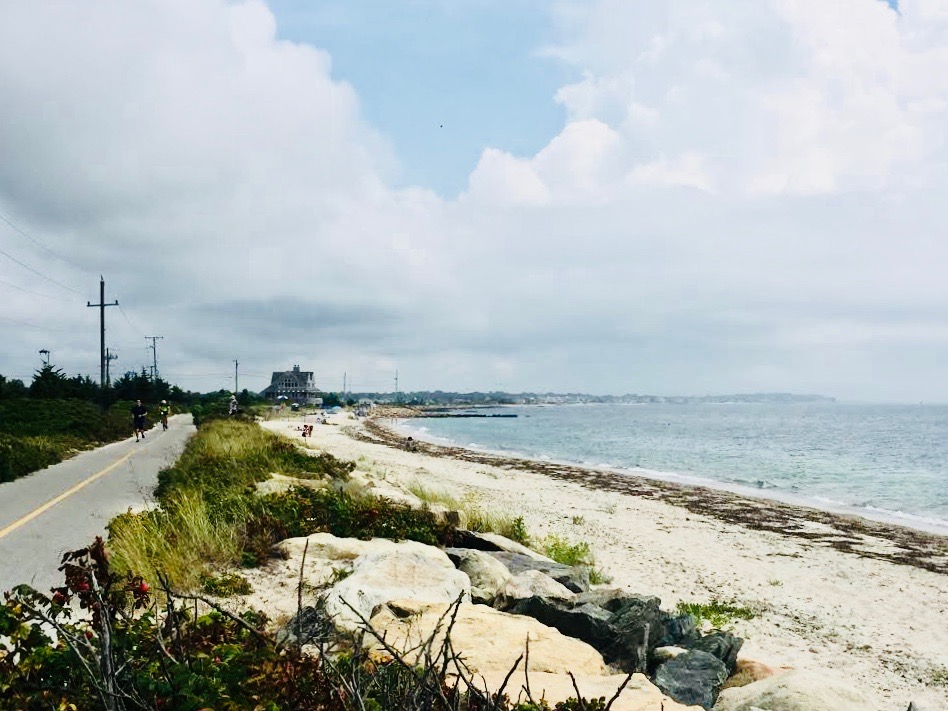 Moving along, you'll see Little Harbor, dotted with all manner of watercraft from yachts to humble dories, and before you know it, you'll arrive at the trail end in Woods Hole. Relax on a bench for a while and enjoy the people watching. There are clean bathrooms and water fountains available in the Steamship Authority ticket building, and vending machines outside. If you're looking for a bite to eat, some swear by the nearby Wood's Hole Oceanographic Institute's cafeteria (open Monday – Friday, 8:30am – 1:30pm). If you'd prefer a restaurant, the Pie in Sky Bakery and Cafe comes up often as a good spot, and has the advantage of being open seven days a week.
Overall, we found the Shining Sea Bikeway to be a good recreational, family-friendly sort of ride. There are great amenities along the trail such as ice cream spots, and a bike fix-it station with tools and air available at the Bud's Stop pavilion in the Depot Avenue trailhead parking lot (mile 3.5 of the path).
As far as crowds go, even though we were on the trail mid-morning on a high-summer Saturday in July, we found the trail crowded in just a couple of spots. Generally it was peopled along the trail and very quiet in few areas. The path doesn't seem to attract many serious Tour-de-France wannabes in full spandex plumage shouting at you about how they are ON YOUR LEFT as they speed by to yellow-shirt glory in their minds. In fact, it was such an easygoing bike ride that we could actually  pretend that the notorious summertime crowds and traffic of the Cape simply didn't exist. Once we got to Woods Hole, that fantasy ended with the bustle of travelers coming and going.
Stopping into the Steamship Authority building, I considered the ticket counter. Outside, I looked longingly at the ferry. How easy it would be to just hop on and lose myself biking on Martha's Vineyard for a couple days. The ferry would get me there in under an hour. I wouldn't be the first to get to Woods Hole and just keep going.
In the end, I heeded the call of the Bates Bikeway because like that other American poet, Robert Frost, I had to go one way or the other. Faced with two choices in the road — one choice an oft-travelled path leading eleven miles back to my car waiting in a parking lot, one choice an entire ocean leading to a nearby island and then, well, who knows — I took the one that led back home.
I was sorry I could not travel both, but one was probably as good as the other. Now I can plan my next Beyond Wellesley adventure. Where will it take me? Newton? Worcester? Hard to say. Maybe my next road trip will be on one less traveled by. That could make all the difference.
Ride on…
Friends of the Bourne Rail Trail hope one day to use State-owned land to directly connect the Cape Cod Canal Recreation Path at the Buzzards Bay Railroad Bridge with the Shining Sea Bikeway. The 6.5 mile extension the group is working to make a reality would create 24 miles of uninterrupted trail by connecting Sandwich, Bourne, Falmouth, and Woods Hole.
MORE:
Beyond Wellesley: a gardens visit to Kennebunk, Maine
Beyond Wellesley: a hike on Mt. Sunapee in New Hampshire
Beyond Wellesley: a restaurant visit to Buttercup, Natick's new farm-to-table place