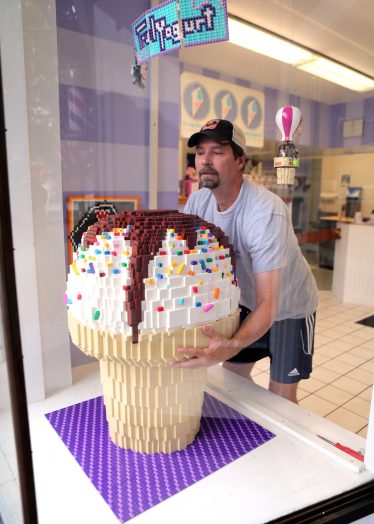 There was plenty of ice cream and yogurt being doled out on Sunday as Wellesley's Truly Yogurt celebrated its 26th year in business with free scoops. But as delicious as the big ice cream cone shown here looks, you wouldn't want to have bitten into it.
It's the latest masterpiece from Needham LEGO brick artist Nick Tatar, who collaborated with Truly's Gary Goldman to design and construct the 5,000+ piece ice cream cone complete with chocolate sauce, rainbow sprinkles, and a cherry on top. Tatar's other LEGO projects seen in town over the years have included the winter village displayed at Wellesley Free Library and a replica of Wellesley Town Hall.
The LEGO ice cream cone took three months to build and is almost forty inches tall.
Photos: Michael Maloney