Bates Pumpkin Fair, October 20
The Bates Elementary School Pumpkin Fair will celebrate its 48th year on Saturday, October 20, 10am -2pm at 116 Elmwood Road. Children of all ages will gather to enjoy one of the most anticipated events of the season. This event is open to the public as Bates welcomes families from Wellesley and beyond. Kids' games and activities, live entertainment, delicious food, tons of prizes and just good old-fashioned spooky Halloween fun are ahead for all who attend.
Admission is free but tickets can be purchased and redeemed for many games and activities.
RAIN OR SHINE
WHERE: Bates Elementary School
116 Elmwood Road
Wellesley, MA 02481
The Pumpkin Fair is an annual fundraiser for the Bates PTO. Proceeds from the
Pumpkin Fair go directly to Bates and benefit every student. Money raised allows the PTO to offer fantastic creative arts programs, books for the library, the latest teaching technology, classroom supplies and more.
Halloween House Decorating Contest, nomination deadline is October 22
Frankenstein screenings at Wellesley Free Library:
October 22, 6:30pm
October 31, 7pm
The October 22 showing is the 2015 version starring James McAvoy as Victor Frankenstein and Daniel Radcliffe as Igor. Told from Igor's perspective, we see the troubled young assistant's dark origins, his redemptive friendship with the young medical student Viktor von Frankenstein, and how he became eyewitness to the emergence of Frankenstein the man and legend. This modern adaptation of the Frankenstein tale re-evaluates the responsibility behind scientific endeavors.  (PG-13, 110 min.)
The October 31 showing is the still-regarded definitive film version of Mary Shelley's classic tale of tragedy and horror in which 'Frankenstein' made unknown character actor Boris Karloff a star and created a new icon of terror. The 1931 film's greatness stems less from its script than from the stark but moody atmosphere created by director James Whale. Frankenstein was greeted with screams, moans, and fainting spells upon its initial release, obliging Universal to add a disclaimer in which Edward Van Sloan advises the faint of heart to leave the theater immediately. If they don't: 'Well…we've warned you.' Join us for a viewing of this classic horror tale on Halloween night! 71 min.
Wellesley Theatre Project, Halloween party, October 27

Halloween Trick or Treat Parade, October 27
This fun annual event starts and ends at Clock Tower Park. Fun and games ghoul-ore.

UU Wellesley Hills Haunted Maze
When:
Saturday, Oct, 27th 11am – 1pm
Location:
Near the
Clock tower, in front of UU Wellesley Hills, 309 Washington Street
After the Wellesley Hills Halloween Stroll, continue the fun in our monstrously mysterious maze and then stop by our treat table to recharge! Located near the clock tower in front of UU Wellesley Hills. Ages 0-8 No charge, but donations are welcome and appreciated. For more info, go to:
http://uuwellesley.org/haunted-house
or email
[email protected]
.
UU Wellesley Horrific Haunted Hallway
When: Saturday, Oct, 27th 11am – 1pm
Location: 301 Washington Street, Wellesley Hills
Teen and Tweens are invited to scare up some fun in our Horrific Haunted Hallway! $5 per youth ($10 max per family) for unlimited walkthroughs. Cider and treats available for purchase. For more info, go to: http://uuwellesley.org/haunted-house or email [email protected].

You're not really going to let your kids eat all that candy, are you?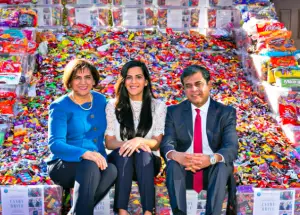 Wellesley Dental Group will hold its 11th annual Community Candy Drive to benefit the U.S. Troops serving overseas. From November 1 – November 8, they will be collecting candy, handwritten notes and cards for our soldiers. Then on November 9 at 10am, the yearly dramatic display of all the loot will take place outside of the 5 Seaward Rd. office. Schools and organizations are invited to attend.
The goal is to teach the kids lessons in giving by encouraging them to share the extra Halloween candy with our troops oversees.  The packages will be sent via CarePacks, a non-profit organization, along with oral hygiene supplies.
To schedule a candy drop-off, please call (781-237-9071) or email us ([email protected]).
Have a Halloween event we haven't mentioned above? Email us at [email protected].