Earlier this week we wrote about how Wellesley High School, was looking like it would come in dead last in a competition with other schools to see who could collect the most donations for Toys for Tots. Things looked bleak indeed until, in a turnaround reminiscent of It's a Wonderful Life, the empty donation tables were filled by people who cared. All it took was a little competitive spirit, some encouragement from radio station Mix 104.1, and a whole lot of community teamwork.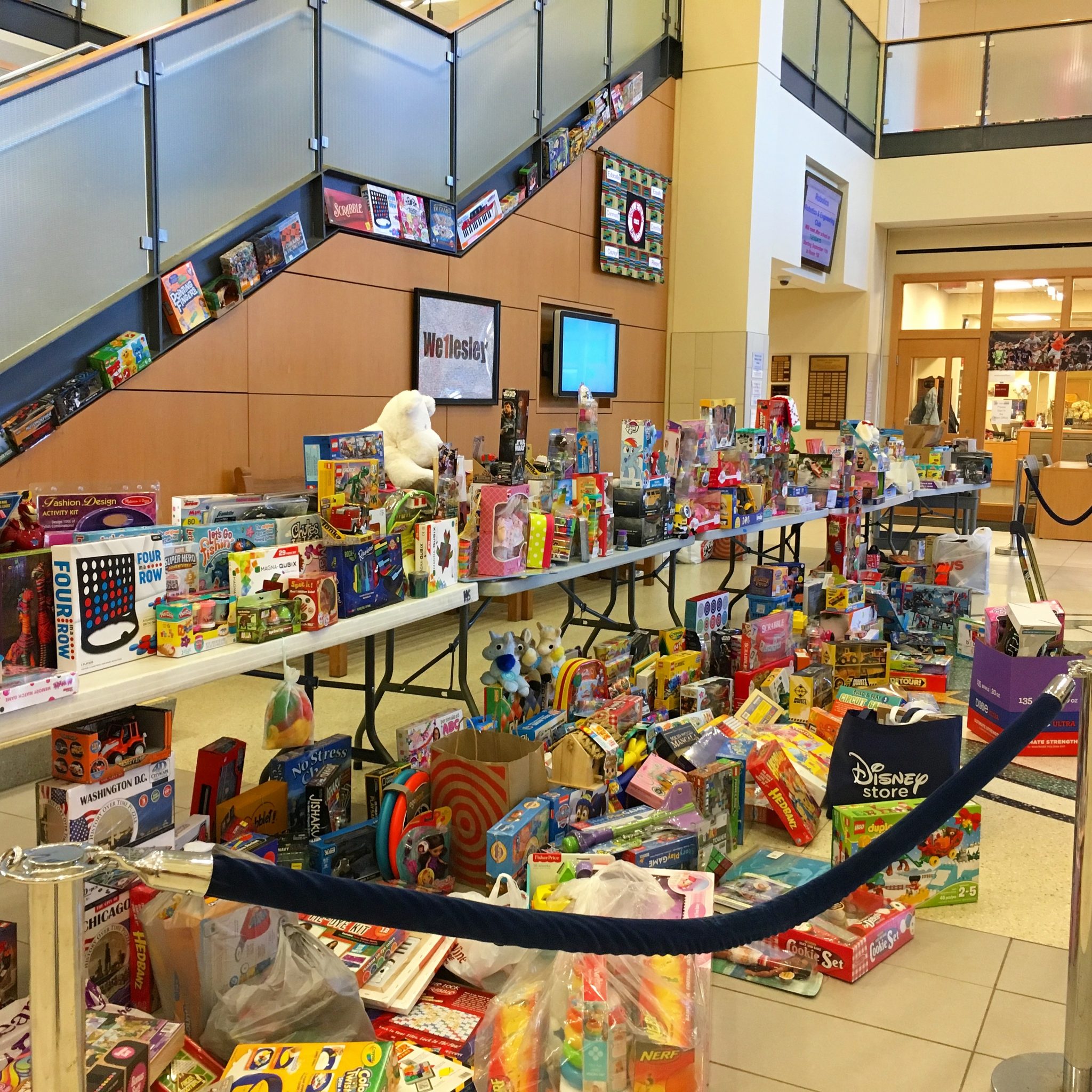 The long and the short of it: WHS students collected over 2,000 toys to be distributed as holiday gifts to families in need. I'll let Principal's Secretary Diane Zinck tell the story. She says:
"The Toys for Tots collection has been such an outpouring of generosity and doesn't surprise us for one second.  This community is built on caring and cooperative relationships, which is one of our school's core values.  The competition with the radio was the catalyst however, it wasn't the force, that was the kindness that comes for each and every student, parent and staff member that we are so fortunate to have at 50 Rice Street.
"Of the four schools all contributing, Wellesley High School raised over 2,200 toys. The closest to that was 451. From what we understand, the Toys for Tots organization is at an ALL TIME LOW.  When our custodial staff delivered the toys in the Town's box truck, the receivers told them that this was the largest delivery from one place. It truly fills the hearts knowing that all the beautiful toys will brighten smiles and fill the arms of parents and children. It was an amazing experience, and we are forever grateful every day for this best little town on the planet."
I'm over the moon about the Toys for Tots donations, and I'm also feeling very lucky that Wellesley has Diane Zinck. Can the ship that is Wellesley High School sail for even one day without her? I don't want to find out.
I'd like to show you a link in the supply chain management of the toys distribution. Our niece Amanda is a Massachusetts State social worker. She's one part hero and one part rock star to our family, and we're all super-proud of her. One part of her multi-faceted job is transporting children in crisis to foster families. But the other day she had the opportunity to do a different kind of transport. Here's her Facebook post: