The School Building Committee in a public meeting last night in the Kingsbury Room at the Wellesley Police Department presented further analysis and a tentative shortlist of four options for a new or rebuilt Hunnewell Elementary school. Two of the options laid out plans for addition/renovation of the 80-year-old, one-story structure, and two of the options are for new construction.
Two of the four options offer the potential (but not a guarantee) of saving the 200-year-old, 30-foot-tall White Oak Tree that graces the front courtyard outside the entrance of the 28 Cameron St. school. More on that here.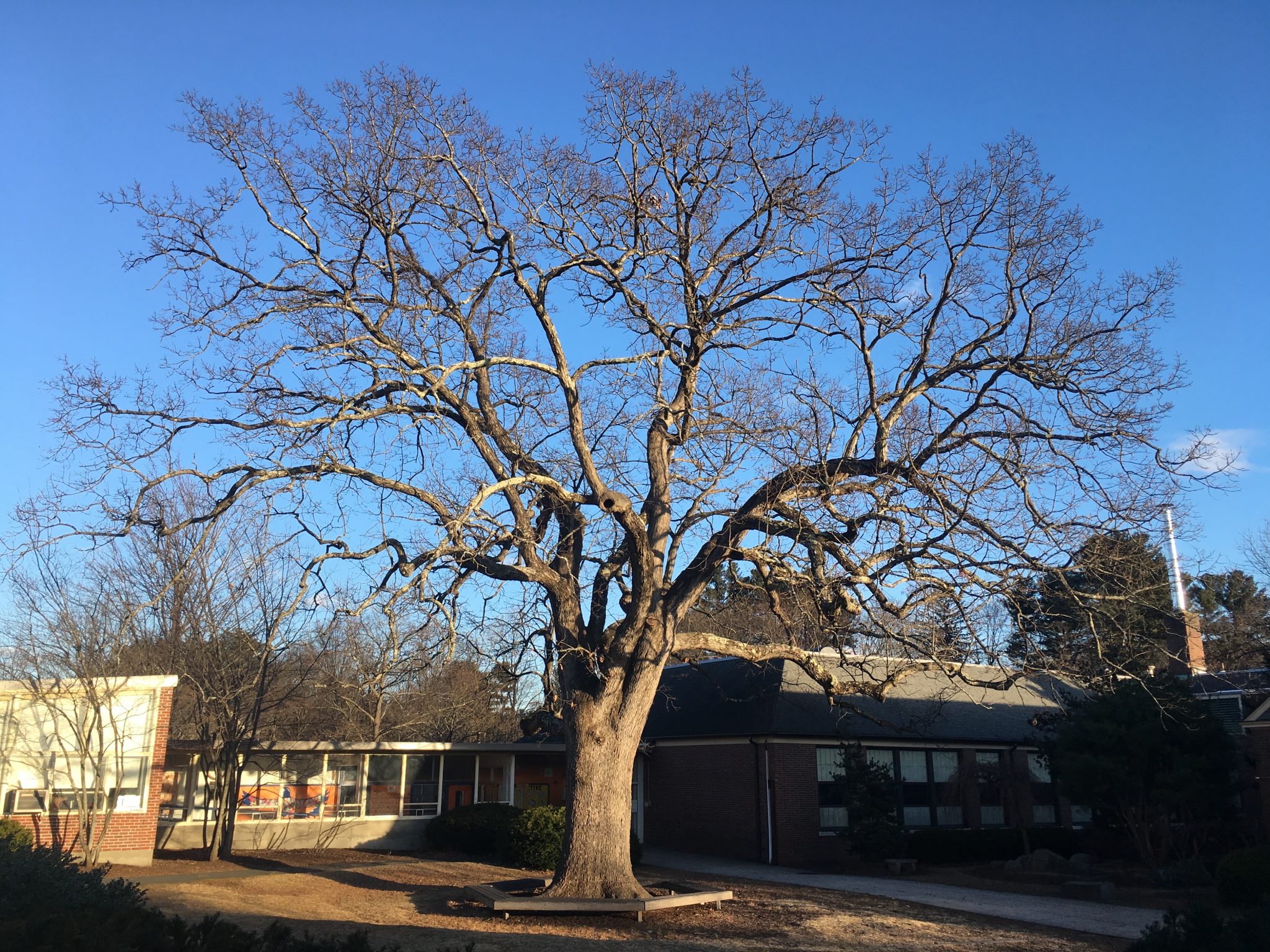 Late last year at a joint meeting at Town Hall of the School Building Committee and the Board of Selectmen, representatives from the Compass Management Team laid out ten possible scenarios for bringing the kindergarten – Grade 5 school into the 21st century. Since that time, the School Building Committee has reviewed those ten possible plans and now they are winnowed them down to four. Last night's meeting was a presentation of each of those four possibilities. Major issues that require attention at Hunnewell: antiquated heating, plumbing electrical, and fire alarm systems; modular classrooms being used well beyond their service life; and the challenges of one space used for the gym, cafeteria, and auditorium.
Whether the end result is renovation or tear-down, the feasibility study put together by the design team at SMMA Compass Project Management is heavy on sustainable design. Using what will be a major building project as an opportunity to create a net-zero energy use situation is a goal of many in town. A building with net-zero energy consumption is one in which the total amount of energy used by the building on an annual basis is roughly equal to the amount of renewable energy created on the site. According to the feasibility study, that can be achieved in part through ultra-low water use features, solar panels, and through use of daylight in the interior of the building. Here's a link to the study.
There will be a Public Forum meeting on January 29, 2019 at the Hunnewell Gym,  7pm to 9pm